U.K. Builds Fewest Cars Since 1984
(Bloomberg) -- Carmakers coming off their worst year in the U.K. since 1984 face uncertain prospects for recovery due to post-Brexit trade complications and measures to contain Covid-19.
Production plunged 29% to less than 921,000 vehicles last year, the lowest in almost four decades, the Society of Motor Manufacturers and Traders said Thursday. The trade group expects a rebound to roughly 1 million cars in 2021, but warned returning to a recent peak is unlikely for the foreseeable future. More job losses are on the horizon once furlough schemes end.
"We think declared job losses in manufacturing including the supply chain over the year was about 10,000, but it will be something of an iceberg," Mike Hawes, SMMT's chief executive officer, said in a briefing with reporters.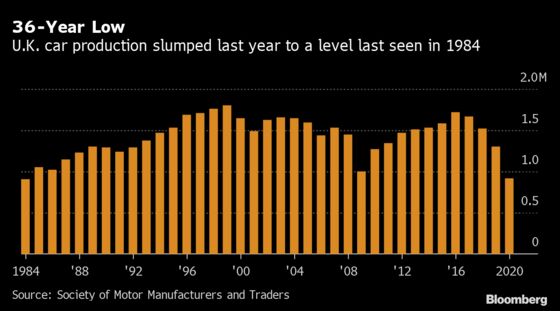 Automakers are working "furiously" to maintain production despite Brexit disrupting parts supplies, Hawes added. While the trade agreement Britain reached with the European Union late last year largely spared the industry from tariffs, it brought about more onerous customs procedures and requires companies to make components locally to avoid levies.
"They're not teething problems," Hawes said. "This is now a permanent fixture of how we trade with the EU."
Coronavirus lockdowns and lower demand for cars at home and abroad were the main reasons for the decline in output, SMMT said. The data are the latest to underscore the dismal year for automakers in Europe. New-vehicle registrations plummeted the most since records began in 1990, the European Automobile Manufacturers Association said earlier this month.
Electric vehicles were a bright spot for U.K. factories, with almost 19% of all vehicles built in Britain being hybrids or full electric, from less than 15% in 2019.
Britain will need to build on that momentum to keep two Stellantis NV plants open for the long term. Carlos Tavares, CEO of the automaker formed from the merger of Vauxhall owner PSA Group and Fiat Chrysler, said this month the company won't invest in combustion-engine models for its two factories in England because of a ban on gas and diesel vehicles taking effect in 2030.