U.K. Set for Record Bond Sales to Tackle Worst Crash in 99 Years
(Bloomberg) -- The U.K. is on course to smash its record for government borrowing this year to fund its emergency response to the coronavirus.
In a program that dwarfs its response to the global financial crisis, the Debt Management Office announced plans to raise 180 billion pounds ($222 billion) of bonds between May and July -- more than four times the level implied by an initial estimate just last month.
The DMO's actions are "eye watering on the one hand, but unsurprising given all the spending measures to combat Covid-19," said Marc Ostwald, global strategist at ADM Investor Services.
With much of the economy shut down, Chancellor of the Exchequer Rishi Sunak needs the cash to help fund his commitment to pay a proportion of furloughed workers' wages and emergency payments to struggling businesses. Gross domestic product may contract by 7.6% in 2020, the most since 1921, according to Bloomberg Economics.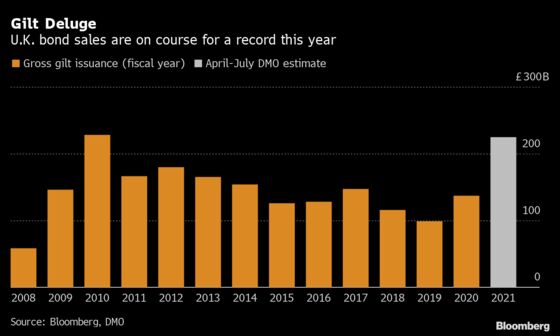 In a sign the government doesn't yet know the full extent of spending needed to combat the crisis, the DMO didn't put a number on total sales for the coming year. With Prime Minister Boris Johnson still recovering from the virus, the U.K. is yet to lay out its exit strategy from the nationwide lockdown he announced in March.
Taken together with the 45 billion pounds of sales in April, the total borrowing in the first four months of the fiscal year almost matches the 228 billion pound record annual total during the financial crisis.
Government borrowing may need to be ramped up further if restrictions drag on.
Despite the dramatic increase in debt sales, the U.K. is unlikely to see a surge in borrowing costs, because the Bank of England's 200 billion pound bond-buying program will help absorb much of the debt in the secondary market. Banco Santander SA estimate that the latest revisions mean that the new issuance of gilts will almost match this year's buying figure from the BOE.
Last month the DMO estimated a total of 156.1 billion pounds of sales for the fiscal year. Gilts initially fell on Thursday, with 10-year yields rising as much as five basis points to 0.38%, a two-week high, before erasing losses.
The DMO said it didn't expect that volume of issuance to continue throughout the fiscal year. It's set to give an update on its plans on June 29.
Pooja Kumra, a senior European rates strategist at Toronto-Dominion Bank in London, said the DMO's debt plans "could take the entire year's issuance close to 350 billion pounds."
One scenario by the Office for Budget Responsibility suggested a gross financing requirement of 381 billion pounds if the lockdown lasts for three months. The Resolution Foundation forecast a six-month lockdown would require around 500 billion pounds of extra borrowing.
"I feel disappointed not to get an indicative full remit, with total issuance, maturity splits etc., but that would have been a knowingly false impression of confidence in very provisional numbers," said Adam Dent, a U.K. rates strategist at Santander. "So I admit the DMO did the right thing."