U.K. August Retail Sales Unexpectedly Gain in Summer Heatwave
(Bloomberg) -- U.K. retail sales unexpectedly increased last month as the warmest summer on record encouraged shoppers to splash out.
Sales rose 0.3 percent from July, compared with a median estimate of a 0.2 percent decline in a Bloomberg survey. Figures for the previous month were also revised up, according to data from the Office for National Statistics in London.
The increase was led by household goods such as furniture and electrical items. Sales of food and clothing fell on the month after strong gains in July. Excluding auto fuel, sales also rose 0.3 percent.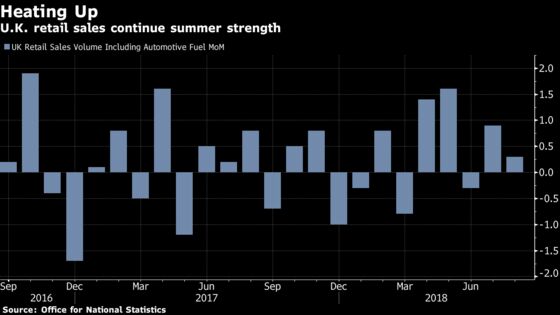 The pound extended gains after the report and traded 0.4 percent higher at $1.3193 as of 9:35 a.m. in London.
The warm weather helped overall retail sales climb an annual 3.4 percent in the June to August period, compared with just a 2.1 percent gain last year, the ONS said. Stores also may have pushed discounts harder than in previous years.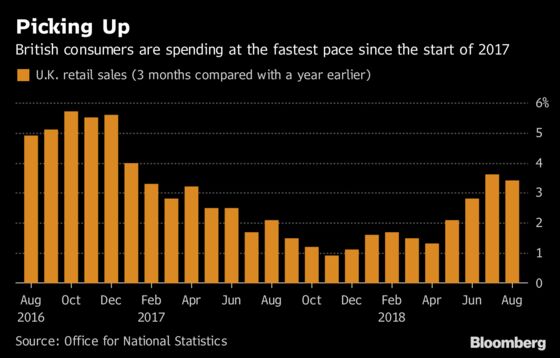 The figures add to signs that the economy picked up momentum in the third quarter. Growth between May and July was the strongest in almost a year and figures yesterday showed inflation unexpectedly accelerated to 2.7 percent, above the Bank of England's 2 percent target. Policy makers raised interest rates last month to the highest level in almost a decade.
The strong summer for stores comes after a year in which U.K. consumers suffered from price gains that outstripped wage growth, thanks to the pound's post-Brexit vote slump. That's been brutal for traditional U.K. retailers, who are also struggling in the face of increasing competition from the internet.
John Lewis Partnership said earlier this month that their pre-tax profit fell almost 99 percent in the first half after a weaker pound and internet-fueled price competition crushed margins. Spending online jumped 14.2 percent from a year earlier in August, the ONS said.
From a year ago, retail sales increased 3.3 percent in August. Excluding fuel, annual growth was 3.5 percent.