Carney's Future Back in Spotlight Amid No-Deal Brexit Talk
(Bloomberg) -- Mark Carney's future is back in the spotlight with a report that he's been asked to extend his term as Bank of England governor again until 2020.
While the U.K. Treasury denied the Evening Standard article, saying it doesn't recognize the reporting, the story highlights the unease in the country's political classes as talk of a no-deal Brexit gets louder. Prime Minister Theresa May said this week that leaving the European Union without a transition deal in place "wouldn't be the end of the world."
Carney, who joined the BOE in 2013 with a plan to stay only five years, already extended his stay to the end of June 2019 to provide continuity through the Brexit negotiations. The Evening Standard reported Tuesday that he'd been approached about doing an extra year, without saying where it got the information. A BOE spokesman declined to comment.
Carney last spoke about his term earlier this month, saying in a Bloomberg interview that nothing had changed about his plans to leave in mid-2019. He also said this summer that he's spending about half his time on Brexit.
"A no-deal Brexit is the dominant theme at the moment," said Ross Walker, head of European economics at NatWest Markets. "This would be to shore up confidence, ensure some further continuity while there might be a difficult period. It's not entirely surprising that this idea might be mooted."
The BOE governor is appointed by the U.K. Chancellor of the Exchequer, a position held at the time of Carney's appointment by George Osborne. He's now the editor of the Evening Standard.
Current Chancellor Philip Hammond so far hadn't said who he might be considering to succeed Carney and the application process hasn't formally started. Earlier this month the Press Association reported that the Treasury was writing the job posting and probably planned to post it by the end of September.
The talk about a fresh approach to Carney adds drama his already complex tenure. He was appointed to the role in late 2012 after previously saying he wasn't interested in the job, and then there were questions over the duration, with Carney initially agreeing to serve five years of what is usually an eight-year term. He also faced calls by some lawmakers for his resignation over his comments about Brexit.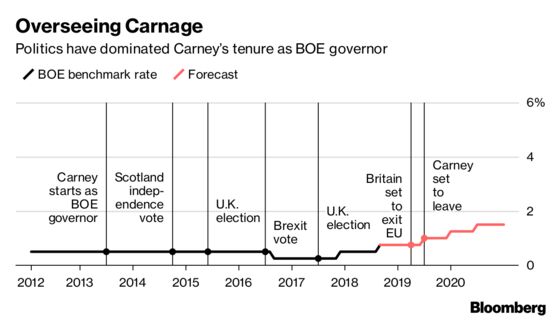 After the BOE's August interest-rate decision at which policy makers raised the benchmark to the highest since 2009, Carney said that the risk of the U.K. leaving the EU without a deal was "uncomfortably high." He also said that Brexit could mean that interest rates will need to go higher or lower, and that much depends on the agreement that the government strikes with Brussels.