Two-Thirds of U.K. Firms Apply for Government Wage Subsidy
Two-thirds of U.K. firms have applied to make use of the government's wage subsidy program -- an indication of the widespread impact of coronavirus restrictions on businesses.
The plan puts the government on the hook to pay 80% of employees wages if the company furloughs them rather than firing them. It's the most popular of the U.K.'s interventions to combat the pandemic so far, according to an Office for National Statistics survey released Thursday.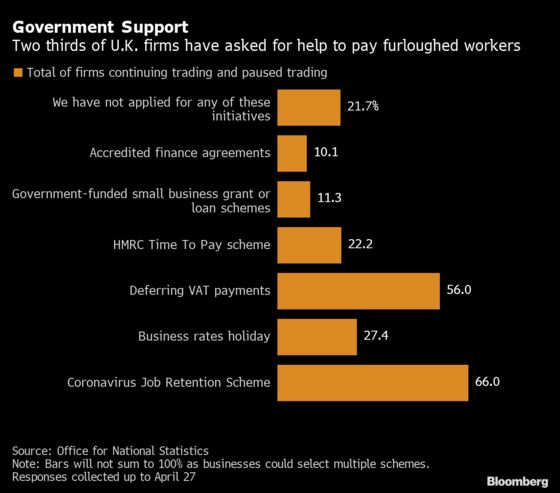 About 5.5 million workers have been placed on the program, Bloomberg calculations show.
The Job Retention Scheme is part of a suite of measures introduced by ministers to allow businesses and workers to stay afloat during the crisis, and help fuel the recovery afterward. The government is currently weighing options for easing a nationwide lockdown, although officials have warned it will not be lifted any time soon.
The ONS survey showed the pain currently faced by U.K. businesses under the restrictions. More than half of firms that continue to trade reported a drop in turnover between April 6 and 19, with one in 4 saying it had dropped by more than half.
The lockdown is also having an impact on the price of a weeky shop. The online price of high-demand products such as canned beans, rice and pasta sauce rose 0.2% in the week through April 26, the ONS said.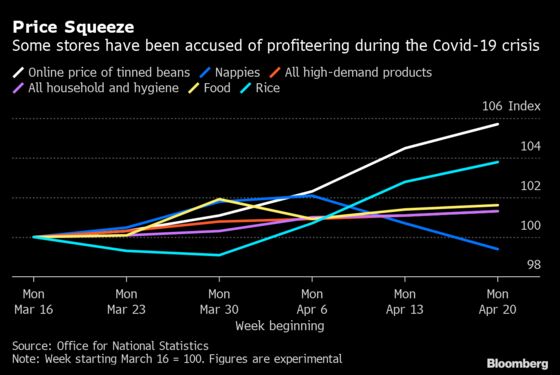 The rise extends price increases seen since the lockdown began and may fuel accusations that retailers are taking advantage of shortages to boost profits.