Two of Asia's Worst Currencies Set for Best Monthly Run in Years
(Bloomberg) -- The Indian rupee and the Indonesian rupiah, two of the worst performers in Asia, are fast narrowing their losses, and policy makers have gone from backstopping a rout to cheering the gains.
The two currencies are poised to end November with gains of more than 5 percent each, their best monthly advance since at least 2015. Both surged Thursday as comments from Federal Reserve Chairman Jerome Powell spurred bets of slower rate hikes, relieving pressure on emerging markets.
Stocks in both the countries also climbed, while bond yields slipped. The Jakarta Composite Index soared 1.9 percent, the most in more than four months to make it the best performing Asian stock benchmark Thursday. India's benchmark S&P BSE Sensex advanced as much as 1.5 percent to its highest level in almost two months.
The turnaround for the worst-hit emerging markets in Asia started earlier in the month when oil prices plunged, helping narrow the current-account deficit for the crude importers, and optimism started building over an easing of the U.S.-China trade war. The rupiah fell to its weakest since 1998 in October, while the rupee had dropped to record lows before rebounding.
These were 'the currencies that were hardest hit this year, and have benefited from a few things, most significantly the drop in Fed pricing and perception of increased dovishness," said Dushyant Padmanabhan, a currency strategist at Nomura Holding Inc. in Singapore. "Lower oil prices have also helped, as have positive expectations on trade ahead of the G-20 Xi-Trump summit."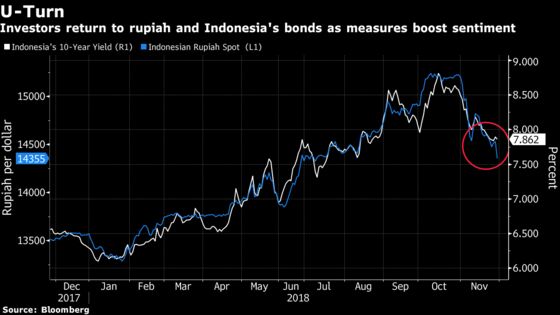 For Bank Indonesia, it's a big turnaround from the months of intervention and rate hikes as it sought to stabilize the rupiah and curb capital outflows. It's now focused on providing room for the currency to keep strengthening, according to Nanang Hendarsah, the executive director for monetary management at the central bank.
"Indonesia's stocks and bonds are very sensitive to rupiah movement," said Satria Sambijantoro, an economist at PT Bahana Sekuritas. "So when they heard about Powell's dovish comments -- coupled with BI's strategy to allow IDR to appreciate, foreign inflows are rushing in."
Indonesian Stocks Gain Most in Asia Led by Property Shares
The rupiah advanced 1 percent to 14,383 against the dollar at the close, while the rupee gained 1.1 percent to 69.8750.