Turkish Lira Extends Decline as Threat of U.S. Sanctions Weighs
(Bloomberg) -- The lira weakened against the dollar as the threat of U.S. sanctions on Turkey compounded investor concerns before key inflation data due later this week.
The currency fell as much as 1 percent to 4.9084 per dollar, bucking a broader strengthening trend across emerging markets as the standoff between the NATO allies threatened to deal another blow to Turkey's already fragile economy. Consumer-price data due Friday may show inflation accelerated a fourth month in July, adding to concern that the central bank's ability to contain prices has been compromised.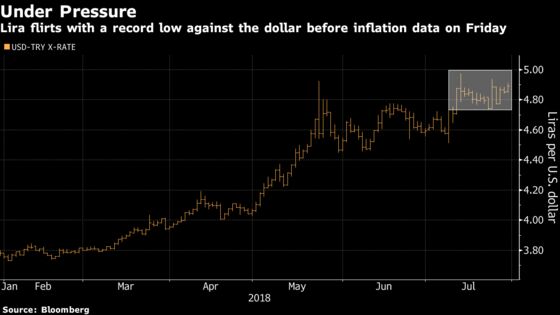 President Recep Tayyip Erdogan said his country won't yield to U.S. President Donald Trump's threat to impose "large sanctions" if an American pastor detained in Turkey isn't released, Haberturk reported Sunday. The U.S. is prepared to bring sanctions against Turkey until the pastor is freed, Vice President Mike Pence reiterated on Twitter a few hours later.
While the timing and nature of potential sanctions remain uncertain, investors are bracing for any developments that would slow the flow of funds into Turkey and pressure the currency which is already flirting with a record low against the dollar. Turkey relies on short-term portfolio flows for a large percentage of its financing needs, and a further slide in the lira threatens to fuel inflation and hamper companies' ability to pay back their foreign-currency debts.
"I think the pair will easily test and surpass the all-time high near 4.9745," said Win Thin, a strategist at Brown Brothers Harriman & Co., adding that the central bank may call an emergency meeting if the pressure on the currency intensifies.
The central bank last week unexpectedly left benchmark rates at 17.75 percent even as inflation runs at more than three times its target. The next scheduled meeting is Sept. 13. Data Friday will show inflation accelerated to 16.30 percent in July, according to the median estimate in a Bloomberg survey.