Turkish Inflation Pick-Up Increases Rate Hike Chances
(Bloomberg) -- Turkish inflation accelerated for a fifth month in February on an oil rally and the lingering impact of last year's weakness, fueling expectations the central bank will try to rein in prices by raising interest rates.
Consumer prices increased an annual 15.6% in February, more than the median estimate of 15.4% in a Bloomberg survey of 21 economists, all of whom predicted an acceleration.
Inflation's upward trend is increasing the likelihood that borrowing costs will increase again before the end of June. Central bank Governor Naci Agbal has lifted the policy rate by 675 basis points to 17% since taking over in November, boosting the bank's credibility among investors. The lira has strengthened 16.5% since under his watch.
Annual retail inflation in Istanbul increased to 15.5% in February from 15.1%, according to the city's Chamber of Commerce, with evidence that food-price gains may be above seasonal averages.
Here are some highlights from the data:
A gauge of annual core inflation quickened to 16.2% from 15.5% in January, showing price dynamics when the impact of volatile items such as food, energy and gold is excluded
Energy price increases quickened to 8.8% from 7.9%, reflecting the recovery in global oil prices this year
Food prices, which account for roughly one-fourth of the consumer basket, rose 18.4%, compared with 18.1% in the previous month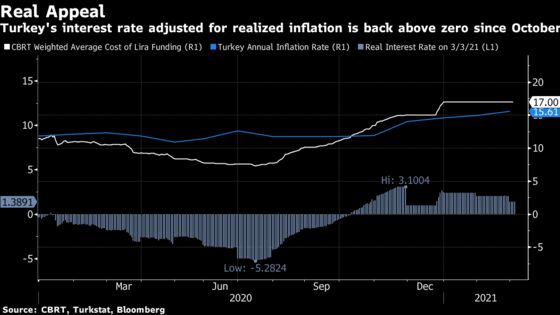 "Inflation continues to rise due to a combination of pressures from international commodity prices and a slew of domestic factors," said Enver Erkan, Istanbul-based economist at Tera Yatirim, citing the lira's performance in 2020 and the pick-up in oil. Erkan said chances for a rate hike at the next meeting are higher than at the previous one. "If there's a rate increase, that would probably be the last one" in this cycle, he said.
"If market participants start expecting a hike on March 18, Governor Agbal will face a difficult choice," said Rabobank's emerging market strategist Piotr Matys, before the data. "Disappointing the market and not raising rates could be interpreted by at least some investors as fading commitment to be pro-active."
Agbal has pledged to maintain a tight monetary policy stance until he meets his inflation target in 2023. The central bank's next rates meeting is scheduled for March 18.