Turkish Inflation Slows Below 20% as Election Clock Ticks Down
Annual price growth last month dipped to the slowest in half a year, with a sputtering economy and a more steady currency setting the stage for further disinflation ahead. Consumer prices in February rose 19.7 percent from a year earlier after a gain of 20.4 percent in the previous month, according to data released by Turkstat on Monday. The median of 17 forecasts in a Bloomberg survey was for 19.9 percent.
The political spotlight is on inflation four weeks before local elections test President Recep Tayyip Erdogan's grip on power as Turkey sinks into recession following a currency crash last year. The runup in food costs disproportionately hurts the base of the president's ruling party among the poorer sections of the country's 82 million people.
"A stable lira and various short-term measures implemented by the administration to rein in inflation, particularly in terms of food prices, have started to yield effects," said Rabobank strategist Piotr Matys. "However, Turkey needs a structural solution to prevent food prices and other imported goods from rising again should the selling pressure on the lira increase."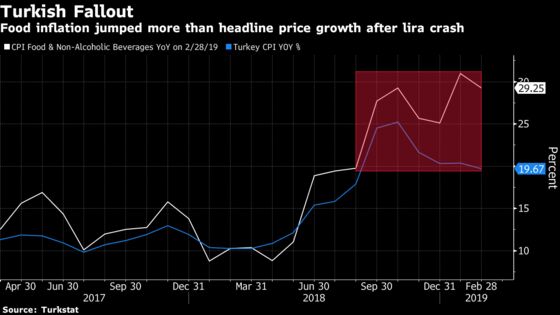 As inflation stabilizes, the central bank is waiting for what Governor Murat Cetinkaya has called a "convincing" deceleration before resuming monetary easing. The time isn't yet right, with analysts polled by Bloomberg unanimous that policy makers will leave their key interest rate at 24 percent for a fourth straight meeting on Wednesday.
What Our Economists Say...

"The government's effort to bring down prices of fruit and vegetables succeeded in tempering inflation. Even so, the chance of any rate cuts by the central bank on Wednesday is slim -- April or June remain the most likely dates for the start of monetary easing."

--Ziad Daoud, Bloomberg Economics

For more, see his TURKEY REACT
Faced with the fastest surge in food prices since at least 2004, municipality-run stalls opened in large cities last month to offer vegetables and fruit at heavy discounts helping move the needle on inflation. Food and non-alcoholic beverages make up the largest component of the consumer-price index, accounting for 23.29 percent of the total.
While food inflation decelerated to an annual 29.3 percent last month, from 31 percent in January, it's still running well above the central bank's year-end forecast of 13 percent.
Now that the effort to check growth in food costs has once again brought out the interventionist in Turkey's government, the approach is unlikely to change any time soon. On Friday, Erdogan vowed the government would "withdraw from the market" only if prices decline.
"Inflation at 20, 19 percent -- we don't deserve this," he said later.