Turkish Food Inflation Slows After Cut-Price Veggie Sales
(Bloomberg) -- Sales of vegetables and fruit at discounted prices by Turkish municipalities are proving to be more than a pre-election stunt to boost President Recep Tayyip Erdogan's AK Party.
Annual food inflation will likely be slower in February than in the previous month after state-run stalls in large cities opened last week, a Turkish official familiar with the figures said on Wednesday. Food and non-alcoholic beverage prices surged an annual 31 percent in January, keeping consumer inflation above 20 percent.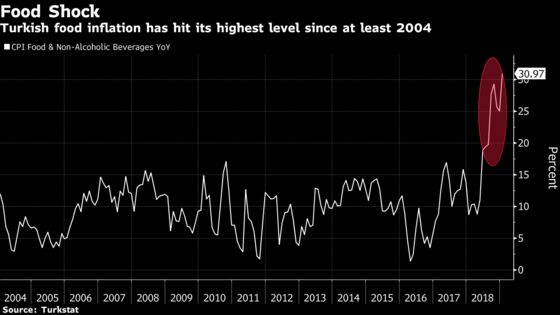 Local elections next month have catapulted rampant food inflation into the national spotlight because it disproportionately hurts the base of the president's party, the poorer sections of Turkey's 82 million people. While Erdogan has faulted profiteering alone, the costs jumped right after the lira's crash in August made food imports and transportation more expensive.
Recent flash floods in Antalya may have also contributed to some shortages, but Treasury and Finance Minister Berat Albayrak has said bad weather has only had a marginal effect.
The price controls are only a temporary solution, said Tuncay Ozilhan, head of High Advisory Council of the Turkish Industry & Business Association. The country "is experiencing high food inflation due to mistakes made in the past," he said.
After food inflation soared to the fastest pace since at least 2004, Turkish authorities decided to cut out middlemen by purchasing produce directly from farmers and selling it in several cities. Food and non-alcoholic beverages make up the largest component of the consumer-price index, accounting for over 23 percent.
In the first week alone, more than 3,200 tons of vegetables were sold in Istanbul and Ankara, Turkey's two biggest cities.
Although Turkstat isn't collecting data from the municipality-run stalls, the government-backed drive will have an impact on inflation figures since many stores monitored by the country's statistics agency started to sell cheaper food items as well, the official said, speaking on the condition of anonymity.
Turkstat said it couldn't comment on the effect of these sales on inflation data but confirmed they may have "an indirect impact" as some stores also slashed prices. The agency will publish February figures for inflation on March 4.
Some privately owned stores have matched the lower prices available at the municipality-run stalls. Discount sales may continue after local elections and will be expanded to include cleaning products and pulses, according to Erdogan.
Both the government and stores imposed a quota on how much discounted food each person can purchase. Turkstat will take some of the stores' prices into account despite the quota, the official said.
The government's crackdown on soaring food prices may strengthen the central bank's hand as it waits for the right time to loosen its monetary policy after leaving interest rates on hold for three consecutive meetings. Governor Murat Cetinkaya has said he needs to see a "convincing" deceleration in price growth before taking action.
Under the central bank's base-case scenario, consumer and food inflation will end this year at 14.6 percent and 13 percent, respectively.
Turkey will have a hard time meeting those forecasts "if food price inflation remains sticky," according to JPMorgan Chase & Co., which projects year-end price growth at 14.2 percent and expects the central bank to cut its benchmark by 650 basis points from 24 percent in 2019.
"If newly introduced government programs -- such as government vegetable stalls -- prove successful, the fall in inflation could be steeper, opening the door for more rate cuts," Yarkin Cebeci, an economist at JPMorgan, said in a report.