Turkish Economy's Hard Landing Upsets Erdogan Electoral Play
(Bloomberg) -- Now that the hard landing is here for Turkey, the question is how long the economic slowdown will last and what policy makers will do about it with only months left before local elections.
The Middle East's biggest economy is on track to cap this year with two consecutive quarters of contraction -- or a technical recession -- in a sign the lira's crash in August and the ensuing spike in borrowing costs are proving nearly as damaging for Turkey's prospects as a failed coup attempt did two years ago.
Data on Monday showed gross domestic product shrank last quarter from the previous three months, while missing forecasts with the slowest annual expansion since 2016. Growth in private consumption, which makes up about two-thirds of the economy, plunged almost sixfold.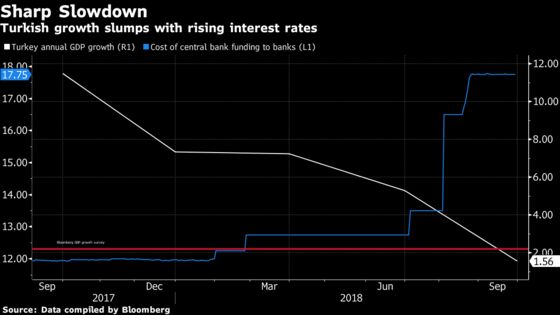 A wounded economy is a major complication for President Recep Tayyip Erdogan, who's built his political success on supercharging growth with stimulus. It's hard to see the government going into the March local ballot with policy remaining tight, given the damage to the real economy and the risk that poses for the ruling AK Party, according Nigel Rendell, a London-based senior analyst at Medley Global Advisors.
"Some easing in monetary and/or fiscal policy looks likely in early 2019 to cushion the domestic economy," Rendell said. "Investors would much prefer policy makers to slay the 'inflation dragon' before trying to resurrect the domestic economy."
In fact, the government has already started trying to lift up consumer demand by cutting taxes on cars, white goods and furniture until year's end.
Here are highlights from Turkey's GDP report:
The economy contracted 1.1 percent on a quarterly basis in the July-to-September period. GDP growth slowed last quarter to 1.6 percent from a year earlier, compared with 5.3 percent during the prior three months. That missed the median estimate of 2.2 percent in a Bloomberg survey
The slowdown was offset by net trade as exports jumped and imports fell. The contribution of net trade to the annual growth figure in the quarter was 6.7 percentage points, according to Bloomberg calculations
Private consumption grew 1.1 percent on an annual basis during the third quarter, slowing from a 6.4 percent rise in the previous three months
The lira was trading 0.5 percent weaker near 5.33 per dollar at 5:29 p.m. in Istanbul, bringing the year's losses to almost 29 percent. It's stabilized after the currency slump that began in August amid a standoff with the U.S.
Thanks to Turkey adjusting by way of foreign trade, the economy's "rebalancing" has been better than expected, Treasury and Finance Minister Berat Albayrak told lawmakers on Monday. Government measures have helped contain what he described as a speculative attack against the lira, which resulted in a higher risk premium for Turkey, Albayrak said.
But worse may be yet to come. The International Monetary Fund predicts growth will slide to 0.4 percent in 2019 from 3.5 percent this year because of a weaker lira and higher borrowing costs. Moody's Investors Service sees a contraction of 2 percent in 2019, while Citigroup Inc. forecasts GDP will drop 3.3 percent next year due to sluggish domestic demand.
"The quarterly contraction trend will continue in the fourth quarter and it looks like we will see a yearly slump in the fourth quarter as well," said Inan Demir, an economist at Nomura International Plc in London.
All eyes are now on the central bank, which reviews interest rates on Thursday. It kept borrowing costs on hold in October, a month after raising the benchmark by 625 basis points to 24 percent. Turkish inflation slowed more than forecast in November after a spike to a 15-year high.
"It is important that the central bank reiterates a strong commitment to maintain tight monetary policy despite the sharp slowdown in economic activity until the outlook for inflation improves markedly," said Rabobank strategist Piotr Matys.