Turkish Consumer Inflation Unexpectedly Slows 
(Bloomberg) -- Go inside the global economy with Stephanie Flanders in her new podcast, Stephanomics. Subscribe via Pocket Cast or iTunes.
Turkey's consumer inflation unexpectedly slowed last month despite record gains in food costs, in a sign that weak domestic demand is taking a toll on prices.
Consumer prices rose 19.5 percent in April from a year earlier, compared with an increase of 19.7 percent in March, Turkstat said Friday. The median estimate in a Bloomberg survey of 18 economists was for an increase of 20.4 percent. The lira was little changed after the data was released.
The drop in inflation defied an increase in food costs, which remain an outlier, stuck at their highest level in at least 15 years. The government has so far failed to rein in food prices despite a campaign of threats, fines and deep discounts.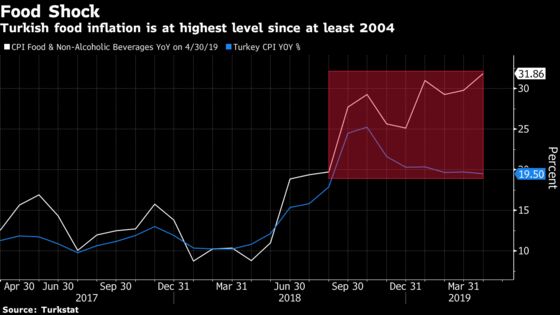 Central bank Governor Murat Cetinkaya said earlier this week improving price dynamics and an extended slowdown in the economy would offset rising energy and food prices later in the year. Still, a headline figure hovering around four times the official target of five percent and a currency under pressure hardly make the case for easing liquidity.
"Unless sentiment toward the lira improves markedly, the central bank will not be able to lower rates," said Piotr Matys, a London-based analyst at Rabobank. "A premature cut when the market is not ready for it would be counterproductive as it would reignite the selling pressure on the Turkish currency."
The lira was little changed after the data, trading 0.2 percent weaker at 5.9749 versus the dollar at 11:00 a.m. in Istanbul. The currency has lost more than 11 percent this year, and is the worst performer behind the Argentine Peso among 21 major currencies tracked by Bloomberg.
What Bloomberg's Economists Say:

"Inflation may not have risen as we expected, but it's still not falling at a convincing rate. As a result, the central bank will probably have to delay its interest-rate-cut cycle at least until the second half of the year if it wants to hit its year-end inflation forecast of 14.6% and avoid a further destabilization of the currency."
-- Ziad Daoud, economist
Click here to view the research
Food inflation accelerated to 31.9 percent from 29.8 percent in March, the highest since at least 2004, staying well above the central bank's year-end forecast of 16 percent.
This was, however, more than offset by a broad-based slowdown in prices from textiles to housing and transportation. A core index that strips out volatile items such as gold, food and energy dropped to 16.3 percent from 17.5 percent, showing a marked improvement in underlying price dynamics. Producer prices rose an annual 30.1 percent, compared with a gain of 29.6 percent in March.