Turkish Central Bank Extends Its Rate Pause Amid Lira Rally
(Bloomberg) -- Turkey's central bank left its benchmark interest rate unchanged for a second meeting as it waits out an upswing in inflation and the currency rallies.
The Monetary Policy Committee left its key rate at 17% on Thursday, as forecast by all but three analysts surveyed by Bloomberg. The committee vowed to keep borrowing costs adjusted for inflation high enough to curb price gains.
"The balance between the monetary policy rate and actual/expected inflation will be sustained decisively" until the official 5% target is met, the bank said in its statement.
Although inflation quickened for a fourth month to 15% in January, due to the lingering impact of last year's lira depreciation and rapid credit growth, most economists argued Governor Naci Agbal could get away with keeping the key rate unchanged this month.
The lira held gains as the bank maintained a pledge to maintain a tight monetary policy for an extended period and even deliver additional tightening if needed. The currency was trading 0.7% higher against the dollar as of 2:29 p.m. local time in Istanbul.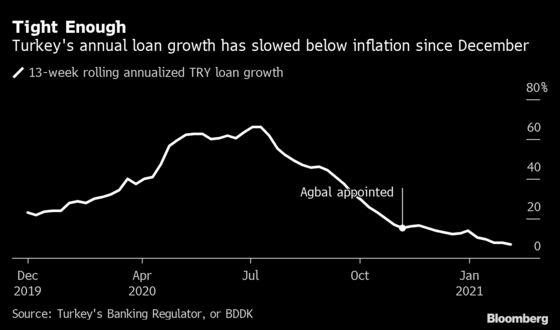 "It feels like they will try a hawkish hold trying to use forward guidance that they will remain tighter for longer and will hike again if inflation rises," said Timothy Ash, a strategist at BlueBay Asset Management. "The longer they hold as inflation rises, the more Agbal uses up his well of policy credibility."
While the current inflation overshoot is within the central bank's prediction range, it will accelerate further, forcing an additional policy interest rate hike of 100 basis points by the end of April, Morgan Stanley analysts including Alina Slyusarchuk wrote in an emailed note before the decision.
Central Bank
Real Rate*
Next Meeting
Malaysia
3.15%
March 4
Turkey
2.03%
March 18
Mexico
0.46%
March 25
South Africa
0.40%
March 25
Russia
-0.94%
March 19
U.S.
-1.15%
March 17
Euro Region
-1.40%
March 11
Brazil
-2.56%
March 17

*Central bank's benchmark interest rate minus realized inflation

Source: Central bank and official data, Bloomberg
Another reason to hold this time was the slowdown in credit growth. Lending has expanded at an annual rate that's below inflation over the past two months. The lending boom has been fizzling out since a decision in November to remove a rule that pressured banks to extend credit.
Meanwhile, the currency's carry appeal prevails. Turkey's real rate of about 2% is among the highest in emerging markets and will likely remain positive even if inflation accelerates.