Turkey Falls Short of What Market Craved on Rates and Reserves
(Bloomberg) -- Investors and economists puzzled by what they say are shifts in Turkey's monetary policy and volatility in its international reserves left Tuesday's central bank briefing with more questions than answers.
Governor Murat Cetinkaya sought to dispel concerns that the Monetary Policy Committee softened its stance on inflation by pledging another round of tightening when needed. But the attempt at damage control, along with an unchanged outlook for prices and holes in an explanation of volatility in reserves, rang hollow to a market that's been on edge for days.
"It was overall dovish, relative to what the market needs, with the notable exception of that comment on potentially tightening rates in the future," said Cristian Maggio, the London-based head of emerging-market strategy at TD Securities. "The real question is rather why did the MPC feel the urge to remove an explicit commitment to possibly doing so in the statement last week, to replace it with an ambiguous sentence?"
The new guidance replaced a commitment to raise rates that was more contingent on developments during a specific period of time, according to Cetinkaya, who characterized the change as policy neutral. Still, that fell short of answering why the central bank chose to tweak its policy language at a time when the Turkish currency was under renewed pressure and inflation ran at nearly four times the official target of 5 percent.
While the lira trimmed some of its losses as Cetinkaya spoke, it was still trading 0.2 percent down at 2:35 pm in Istanbul.
"Basically, I did not find the statements today very realistic," said Tatha Ghose, a senior emerging-market at Commerzbank AG, in London. "It is good that they retracted that dovish shift, although only after facing pressure on the lira -- hence, the market will be unsure whether this is a genuine change or just management of the situation."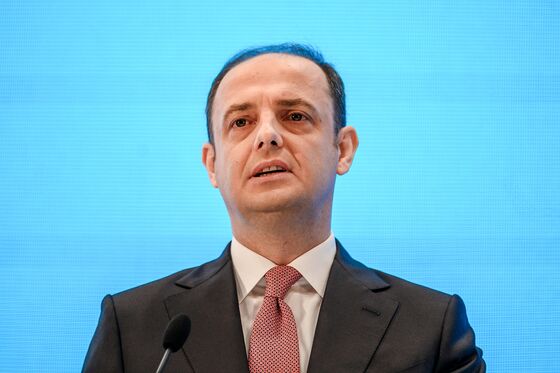 Despite last Thursday's decision to drop an explicit pledge to deliver further monetary tightening if needed, Cetinkaya signaled policy makers remains on alert.
"Should the upside risks to inflation materialize, additional tightening may be delivered," he said in response to a question on the matter. "We maintain that we will keep a tight stance until there is a significant improvement in the inflation outlook."
The central bank left its inflation projections unchanged for this year and next at 14.6 percent and 8.2 percent, respectively.
What Bloomberg's Economists Say
The central bank "backtracked on the softening of its hawkish tone in its latest inflation report. The bank kept the year-end inflation forecast unchanged and said a new tightening cycle is still possible. The jury is out on its explanation of the decline in international reserves."

-- Ziad Daoud, chief Middle East economist
Click here to view the piece
Some were satisfied by the governor's clarification.
"It was reassuring of the Turkish central bank to clarify their decision and their statement last week and that they are still maintaining a tight monetary stance, even though it came a bit late," said Esther Law, senior investment manager for emerging-market debt at Amundi Asset Management in London.
After last week's statement, Goldman Sachs Group Inc. said the lira could depreciate 15 percent in the next 12 months. The currency is already the emerging world's worst performer in April. The lira pared losses after the governor's remarks, trading 0.2 percent weaker at 5.9599 per dollar at 2:17 p.m. in Istanbul.
Adding to the jitters on monetary policy, Cetinkaya also didn't live up to expectations that he'd shed light on why the central bank's official reserves weren't rising at a faster pace.
The governor said he was aware of the need for more central bank guidance on the figures. But a special section in the inflation report released on Tuesday reiterated the bank's compliance with international accounting norms held by other regulators.
"I'm none the wiser," said Inan Demir, an economist at Nomura International Plc in London. "I'm afraid in general the market was looking for -- or hoping for -- clarity on net reserves, but it didn't get that."