Turkey Tweaks Key Banking Ratio to Slow Credit After Lira Plunge
(Bloomberg) -- Turkey's banking regulator took another step to slow lending after a massive credit boom contributed to a currency rout.
The regulator, known as BDDK, said late Monday that banks will be able to include foreign-currency loans extended to other local lenders for one year when calculating their asset ratio, making it easier for them to meet the requirement.
Domestic banks will also be able to include syndicated loans under credits in proportion to their individual participation in arranging a facility, according to the BDDK's statement. The regulator kept the asset ratio, which compels banks to extend more loans, at 90% for commercial lenders, and at 70% for Islamic lenders.
The regulator has been making changes to ease the asset ratio since it was introduced in April as authories tried to unwind stimulus policies that had unleashed a credit boom. A record pace of lending by commercial banks resulted in higher imports and a wider trade gap, putting more strain on the lira. Turkey's currency is down more than 26% against the dollar this year, the worst performer among its emerging-market peers after the Brazilian real.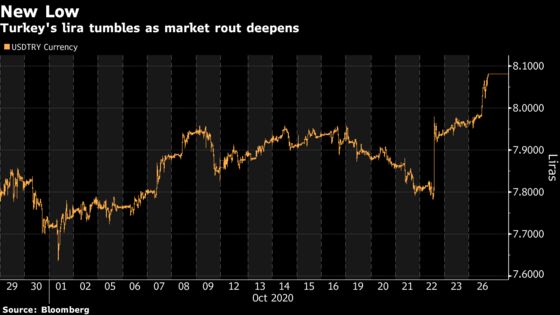 The lira slumped as much as 0.2% on Tuesday to hit a fresh record low of 8.1039 against the dollar.