Turkey to Wield Competitive Lira in Economy's Pivot After Virus
(Bloomberg) -- Turkey can capitalize on the legacy of this year's global health crisis by putting a competitive lira at the heart of a new strategy to move toward a more export-focused economy, according to Treasury and Finance Minister Berat Albayrak.
Albayrak said Turkey expects a spurt of economic growth in 2021. The lira, down over 20% against the dollar this year, may give Turkey an edge as it looks to reboot an economy long vulnerable to imbalances.
"A key objective of our economic program is to have a balanced current account in the medium term and reduce reliance on foreign financing," Albayrak said in response to emailed questions from Bloomberg.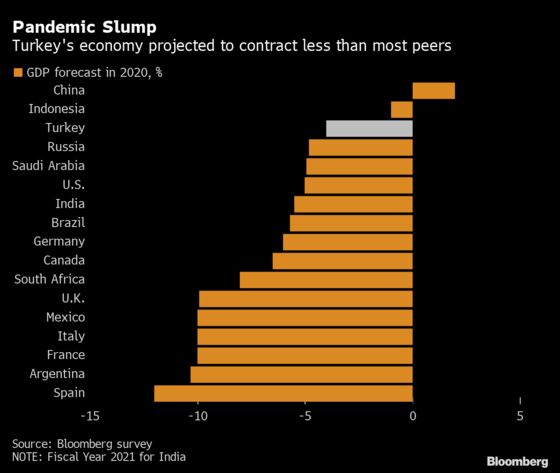 "We're going to achieve this by increasing our exports and tourism income, domestically producing the goods and services that are being imported, raising our savings rate, channeling most of our resources to production and maintaining a competitive foreign-exchange rate policy," he said.
Q&A: Turkey's Finance Minister Comments on Economy, Lira, Energy
By looking to turn the lira to its advantage, Turkey is staking out a path to recovery just as speculation builds across the global economy that a fresh currency war might be on the horizon. Albayrak's vision reflects ambitions of President Recep Tayyip Erdogan's government to prioritize local production in some goods over imports in recent years. Such programs include Turkey's plans to develop its own car and produce all building materials for housing domestically.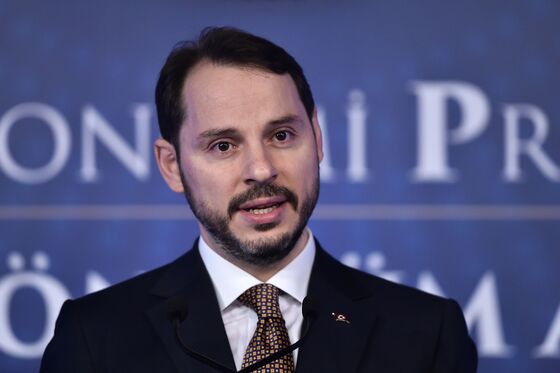 Albayrak said last month that Turkey's economy will likely fare better than many of its peers this year, estimating its performance at between a contraction of 2% to a 1% gain. Before the health emergency, the government set the goal of 5% for 2020-2022.
"Our growth rate will be significantly above 5% in 2021 if there won't be another major wave in the outbreak," the minister said. Additionally, "more good news may come soon" after the recent gas discovery in the Black Sea, he said.
Read more: TURKEY INSIGHT: 5% Goal Meets Virus Reality – Long Term Forecast
Albayrak, who's been in the job since a cabinet reshuffle in 2018, also signaled backing for the central bank, which has tried to stabilize the lira in recent weeks.
While avoiding an outright interest-rate hike, policy makers have started tightening liquidity by using fringe tools and ceasing to provide funding at their cheapest rate. Inflation picked up less than forecast in August. It remains close to an annual 12%.
The central bank's reliance on liquidity tools will be effective in limiting price growth and "inflation will return to a deceleration path in the upcoming period," Albayrak said.
The focus on protecting the economy this year has forced a change in the borrowing strategy just as Turkey faced an outflow of foreign capital.
The Treasury has significantly increased its hard-currency borrowing in the domestic market instead of raising money abroad. It hasn't sold a 10-year lira bond in over two years.
Albayrak said the approach may soon change and the Treasury plans to restart its sales of five- and 10-year lira securities. The ministry recently announced that it's planning to offer 10-year fixed-coupon bonds on Nov. 17.
Turkey also hasn't revised this year's target for borrowing $9 billion from international markets, Albayrak said.
"We'll continue to take advantage of good opportunities with regards to price dynamics just as we did in the past," he said.