Turkey Tightens Oversight of Currency Market as Lira Weakens
(Bloomberg) -- Turkish authorities are keeping tabs on investors who are buying large amounts of foreign currency and asked banks to deter their clients from using the spot market for hedging-related trades as they struggle to contain the lira's slide.
The central bank has requested commercial lenders inform them of any big-ticket dollar purchases that may impact the market negatively, according to people familiar with the matter, who asked not to be named as the information isn't public.
Officials also asked banks to advise corporate clients looking to hedge any potential lira losses to use the futures markets or the central bank's non-delivered forward market, the people said.
The central bank declined to comment. 
The lira has weakened more than 20% against the dollar over the past two weeks, weighed down by a cycle of aggressive rate cuts that drove inflation to the highest level in two decades. The Turkish currency was trading 0.2% lower at 13.4363 per dollar as of 12:23 p.m. in Istanbul.
The rout comes despite a string of extraordinary measures, including heavy interventions on the market by the central bank. While the sales helped reverse the lira's slide in December, they eroded the bank's net reserves, which fell to just $8.6 billion last month, down from $26.4 billion at the end of November.
The government also introduced a new type of foreign-currency-linked deposit account designed to curb rampant demand for euros and dollars by local investors, and will require exporters to convert a quarter of their revenues to liras.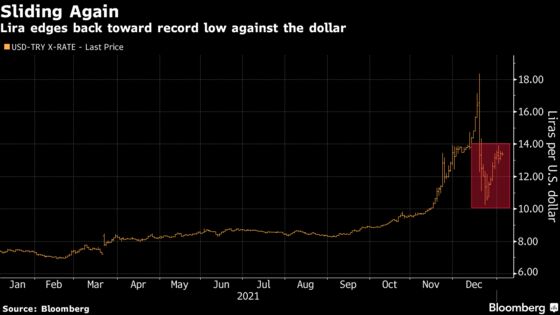 Under pressure from President Recep Tayyip Erdogan, the central bank cut its key rate by 500 basis points last year. While most economists say the central bank instead needs to raise interest rates to restore confidence in the local currency, the president has vowed that Turkey won't increase borrowing costs.
Erdogan says he wants to rid the country of its reliance on short-term foreign capital that flows in when rates are high, and wants to retool the economy by boosting exports. He also believes that high rates spur inflation rater than cool it.