Turkey Signals Slower Easing Ahead After Another Jumbo Rate Cut
Turkey's central bank signaled it's set to slow the pace of monetary easing after delivering another interest-rate cut that exceeded forecasts as it navigates the conflicting demands of the presidency and markets.
Governor Murat Uysal reduced the key rate to 16.5% from 19.75% on Thursday. The Monetary Policy Committee said inflation is likely to end the year below its earlier forecasts but suggested less scope for deeper easing. The lira reversed losses and advanced the most in emerging markets.
"At this point, the current monetary policy stance, to a large part, is considered to be consistent with the projected disinflation path," the bank said in a statement.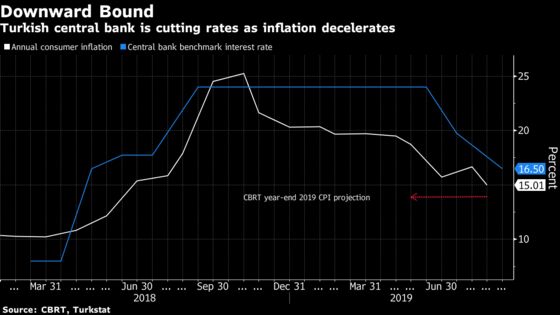 Boxed in by President Recep Tayyip Erdogan, Uysal is following up on his record monetary easing in July with his second bold move, bringing cuts under his watch to 7.5 percentage points while still leaving rates above inflation.
As the economy is only starting to make up ground lost during a short-lived recession and there's little room for fiscal stimulus, the central bank is taking center stage for Erdogan, who believes that high rates cause rather than curb price growth.
Just days ahead of this week's meeting, Erdogan laid down a marker for the central bank, suggesting Turkey will lower borrowing costs to single digits soon and inflation will follow suit.
The only adjustment in forward guidance from July's decision suggests the central bank thinks it might be nearing the end of its easing cycle, according to Piotr Matys, a strategist at Rabobank in London.
"If the central bank is mindful of market expectations, the pace of easing is likely to slow down as the policy rate approaches a level which is tolerated by investors,'' Matys said.
The governor, whose predecessor Murat Cetinkaya was fired for failing to act faster, has already signaled that more cuts were in the cards but also vowed to preserve "a reasonable rate of real return" for investors. Turkey's price growth, currently at 15%, will end the year at 13.9%, according to the central bank's latest forecast.
What Our Economists Say...

"The V-shaped path of inflation may have motivated the front-loading of rate cuts. The bulk of easing is likely over -- only an additional 50 basis points could be delivered this year. But that's probably not enough to satisfy Erdogan."

--Ziad Daoud, Mideast economist

Click here to view the piece.
A steep deceleration in price growth that looms as early as this month probably clinched the argument for Uysal. Before the latest rate cut, Turkey's benchmark was double the average for its emerging-market peers, providing room for 4 percentage points of easing relative to the central bank's year-end forecast for inflation, according to Bank of America Corp.
When Uysal slashed the benchmark by 425 basis points in July, against a market expectation of 250 basis points, it was the first reduction since 2016 and the biggest since a shift to inflation targeting in 2002.
A rare calm had settled over the market before the decision. After soaring to an eight-month high ahead of the central bank's July meeting, volatility in Turkish stocks has come down before this week's gathering. The lira appreciated for a second day, trading 1.4% stronger against the dollar as of 3:02 p.m. in Istanbul.
"They will keep cutting, and in the current emerging-market environment it is bearable for the lira," said Guillaume Tresca, a strategist at Credit Agricole.
As inflation picks up toward the end of the year, the central bank "could be short of ammunition and one could suspect its reaction function is even less flexible than during Cetinkaya's tenure," he said.