Turkish Rate Guidance Intact After Five Cuts Went 'Bit Deep'
(Bloomberg) -- Turkey's central bank is standing by its promise of a positive real rate of return to investors despite five interest-rate cuts that Governor Murat Uysal conceded "were a bit deep."
Speaking Wednesday in interviews with Turkish TV at the World Economic Forum in Davos, Switzerland, Uysal said returns will run above zero based on the projected path of slowing inflation. The governor, installed last July, also downplayed concerns that the lack of a buffer against market sell-offs could now present a threat by saying the country has had negative real rates in the past.
"Our interest rates steps in 2019 were a bit deep," Uysal said. "I can say that we have entered a period in which we need to fine-tune inflation and monetary policy."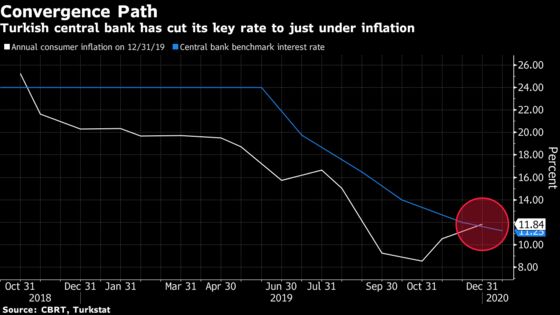 The governor spoke a week after Turkish policy makers delivered the smallest decrease since embarking on an easing cycle last year. The 75-basis-point rate cut to 11.25% pushed the benchmark below zero when adjusted for inflation, which approached 12% in December.
Uysal predicted that price growth will start slowing from the second quarter and drop to single digits from the second half. It's still expected to remain elevated in the first quarter at around 11.5%, he added.
Turkey's central bank projects inflation will end this year year at 8.2%, according to its latest inflation report published in October. New forecasts are due next week.
President Recep Tayyip Erdogan, who's repeatedly said rates will fall into single digits this year, contends higher borrowing costs cause rather than prevent inflation. Most economists and central banks around the world believe the opposite to be true.
Treasury and Finance Minister Berat Albayrak said this week it's the nominal interest rate that "matters more" and suggested the country's currency should be at a more favorable level.
The lira has held up well as the central bank has eased policy, notching the emerging world's fifth-best performance against the dollar so far this year. It gained on Wednesday versus the U.S. currency for the first time in four days.
Here are other highlights from Uysal's speech:
Inflation, currency, demand conditions and trade created room for front-loaded cuts in 2019
Turkey's latest cut was "measured," next steps will be data-driven
The central bank won't allow high volatility in the lira market
Increasing the number of monetary policy meetings to 12 from eight allows the central bank to act faster; the new schedule is "more comforting"
The real exchange rate continues to support positive developments in the current-account balance
The central bank under Uysal cut the benchmark by 12 percentage points last year.