Turkish Police Are Fighting Inflation by Checking Toothpaste Prices at Grocery Stores
(Bloomberg) -- Their toolkit is no match for the central bank's, but after President Recep Tayyip Erdogan made repeated calls for a crackdown on price hikes, Turkey's municipal police are on the frontlines of its war on inflation.
On a sunny October morning in Gungoren, a working class Istanbul neighborhood and a stronghold of Erdogan's Justice & Development Party, members of the zabita, as they are known in Turkish, were paying surprise visits to supermarkets in their van, perusing the shelves and issuing warnings to shop managers suspected of price-gouging.
"We compare price labels with prices at the cash register," says Ahmet Ergal, one of the officers. "We also check product weights. We go to a few stores every day."
The measures reflect a growing desperation among policy makers as the lira's 38 percent collapse this year wreaks havoc on prices, pushing inflation to a 15-year high near 25 percent in September. Gains in producer prices have soared at nearly double that pace.
With few pain-free solutions available, the authorities are increasingly resorting to market interventions, from restricting the use of derivatives to demanding that banks charge below-market interest rates for home loans. Other steps include banning the use of foreign currencies in property sales and rentals, blocking price hikes in bread, and state banks selling subordinated bonds to the nation's unemployment fund to shore up capital.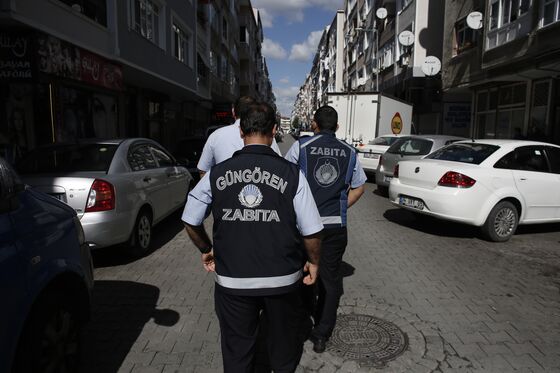 Treasury and Finance Minister Berat Albayrak on Tuesday announced a plan for an "all-out fight" against inflation, saying that commercial banks will cut rates on some outstanding loans and companies participating in the campaign will reduce prices by 10 percent.
The central bank has already jacked up its benchmark interest rate by 6.25 percentage points to 24 percent last month, arresting a run on the currency that at one point sent the lira plunging as much as 12.5 percent in a single day. Short of delivering another wallop of monetary tightening in the face of Erdogan's distaste for higher borrowing costs, policy makers are left to watch the zabita do what it can.
"It's degrading for Turkey that you think you can manage the economy through the zabita," Meral Aksener, chairwoman of the opposition Iyi Parti, said in Ankara on Tuesday, directing her comment at the president. "What shall we do, Mr. Erdogan? Complain about you to the zabita?"
The inspections started soon after Erdogan's appeal on Sept. 14 for authorities to "work out control mechanisms" against price hikes. They took off in earnest this month, when the president specifically called out the zabita.
"It's our duty to do whatever is necessary wherever prices are seriously volatile," Erdogan said Oct. 2.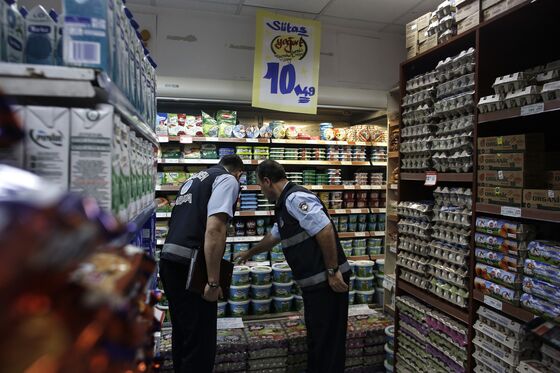 At some stores, the cost of eggs and toilet paper has increased by 33 percent and 25 percent in just two weeks. In the cat-and-mouse game that's playing out all over Turkey, Mustafa Turk -- a zabita chief in Ankara -- has his men check a cold-storage room to see if there's any "hoarding" of goods to be sold at a higher price.
"Whoa! Is this gold or what?" asks a member of Ergal's team, holding a 120-unit pack of dishwasher tablets in his hand. At 105 liras ($17), the price is about 6 percent of the monthly minimum wage.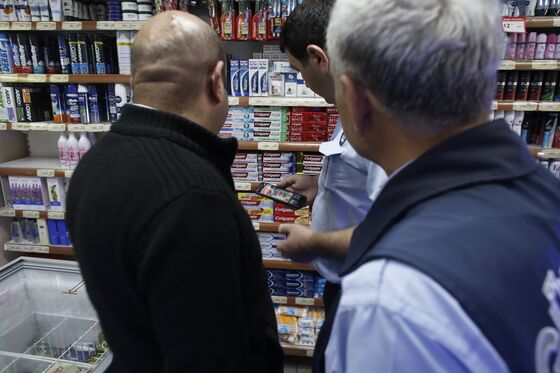 Consumers can't help but be skeptical. "The hikes are not because of markets, but as a result of Turkey's overall course," Sabri Ergin says while shopping in Ankara. "These inspections can solve nothing."
Other state efforts could carry more bite. The Turkish Trade Ministry said that as of Monday, its officials have checked tens of thousands of products at almost 4,000 companies, demanding answers in writing from 114 firms in defense of what was deemed unfair pricing.
Micromanaging the economy may only delay Turkey's reckoning, especially after criticism that the central bank waited too long before aggressively raising interest rates.
"Inflation cannot be fought against through law enforcement," Erinc Yeldan, an economist at Bilkent University in Ankara, said by phone. Inspections may give the message that the government won't allow profiteering, but "that should not be the main method," he said.