Turkey's Current-Account Balance Swings to Deficit as Lira Heals
(Bloomberg) -- Turkey posted a current-account deficit after running a surplus for four straight months, in a sign that a sharp improvement after last year's currency crash may be losing steam as the lira recovers.
The country's current account -- the broadest measure of trade and investment -- recorded a deficit of $1.44 billion in December, the central bank said on Thursday. The median of 12 forecasts in a Bloomberg survey was for a gap of $1.5 billion. All but one economist in the poll expected a deficit.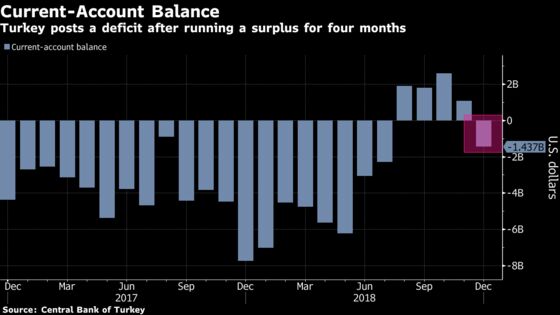 The 12-month rolling gap fell to $27.6 billion from $33.9 billion in November and down from a peak of $58.1 billion in May. The full-year deficit is near Treasury and Finance Minister Berat Albayrak's latest prediction of just below $30 billion, around 3 percent of gross domestic product.
The banking system posted a net loan outflow for an eighth month, which reached $2 billion in December, an indication of weak demand for credit.
Official reserves rose by $860 million, taking the depletion in 2018 to $10.4 billion in a sign that the monetary authority is trying to rebuild its foreign-currency coffers.
The balance of goods and services posted a deficit of $1.7 billion.
Net errors and omissions, or capital movement of unknown origin, showed a monthly inflow of $2.8 billion, bringing total inflows for 2018 to $21.2 billion.