Turkey Reimposes 0.1% Tax on Some Foreign-Currency Sales
(Bloomberg) -- Turkey will reintroduce a 0.1% tax on some foreign-currency transactions in a move that will increase budget revenue but risks raising concern that the government is taking on a larger role in managing the market.
The levy, kept at zero for over a decade, will be introduced on foreign-currency sellers, according to a presidential decision published on Wednesday in the Official Gazette. It won't apply to the interbank market and credit transactions. The average trading volume in the local foreign-exchange spot market was $3.6 billion in April, according to central bank data.
Turkey has resorted to increasingly heavy-handed tactics to steady the lira, even engineering a currency crunch before March elections by pressuring local lenders not to provide liquidity to foreign investors. Still, officials have repeatedly denied any plans to impose capital controls.
"It sends the wrong signal to the markets," Guillaume Tresca, senior emerging-market strategist at Credit Agricole CIB, said by email. "The risk is it could deter further appetite from foreigners to invest in Turkey."
The lira has weakened over 12% versus the dollar this year, the worst performer in emerging markets after the Argentine peso. It was 0.2% stronger at 6.0162 per dollar as of 5:55 p.m. in Istanbul.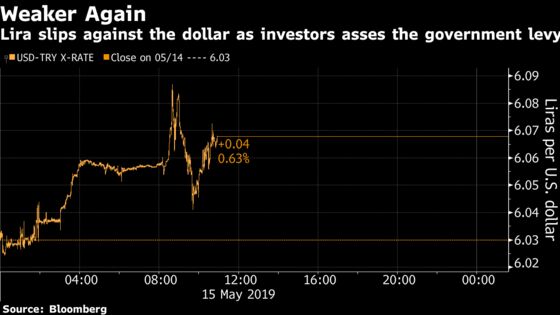 The goal of the tax change is to prevent speculation in foreign exchange and bolster tax income, the state-run Anadolu agency reported, citing Treasury officials it didn't name.
The government could add an estimated 200 million liras ($33 million) in monthly revenue to the budget, or about 1.5 billion liras for the remainder of the year, according to Erkin Isik, chief economist at QNB Finansbank in Istanbul. The 12-month rolling budget deficit was 88.4 billion liras as of March, according to Bloomberg calculations using data from the Treasury and Finance Ministry.
The move is designed "more to discourage FX buying" than to raise funds, Isik said.
Exemptions from the tax include sales to Turkey's Treasury as well as transactions between banks or authorized institutions and sales by banks to a borrower related to repayment of foreign-currency loans.