Turkey on an Arms Binge Outdoes World's Top 15 Defense Spenders
(Bloomberg) -- Defense spending in Turkey rose at the fastest pace among the world's top 15 arms purchasers, a reflection of the burden imposed on the country's strained finances by NATO's second-largest army after its foray into neighboring Syria.
The country's defense spending rose 24 percent to $19 billion in 2018, putting it just behind Canada and ahead of Spain and Israel in total outlays, the Stockholm International Peace Research Institute said in a report released Monday. Turkey's spending on the military surged 65 percent between 2009 and 2018, according to SIPRI, which researches global arms expenditure.
"Funding for arms procurement increased rapidly in 2018 and Turkey also expanded its military operation against Kurdish armed groups in Syria," it said.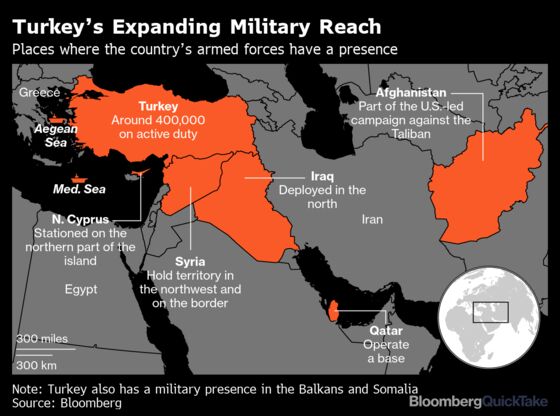 Turkey's 400,000-strong army remains engaged in one of the country's largest foreign operations since the collapse of the Ottoman Empire after World War I. President Recep Tayyip Erdogan sent troops to Syria in 2016 to fight both Islamic State jihadists and U.S.-backed Kurdish forces, which are linked to PKK militants who have battled for an autonomous Kurdish region inside Turkey.
Troops are also massing along the border in the hope of establishing a safe zone to encourage the more than 3.6 million Syrians who fled to Turkey to return home, and avert any new wave of refugees.
Other highlights from SIPRI's report

Worldwide military spending rose 2.6 percent last year to $1.82 trillion, or roughly 2.1 percent of global gross domestic product
The list of the world's biggest military spenders has remained consistent in recent years. It's dominated by the U.S., whose spending rose for the first time in seven years to $649 billion and accounted for 36 percent of the global total in 2018 
China was ranked second with an estimated $250 billion in spending
Despite a 6.5 percent decrease in its military spending between 2017 and 2018, Saudi Arabia remained the third-largest spender in the world, with an estimated total of $67.6 billion