Trump-Xi Dinner Offers Chance to Avert Deeper U.S.-China Rift
(Bloomberg) -- A year ago, Xi Jinping thought he had Donald Trump all figured out.
The Chinese president had just hosted his American counterpart in Beijing for a summit rich in fanfare. Despite some tensions during the visit, Xi appeared to have steered Trump away from unleashing a withering trade war between the world's two largest economies.
Now, the two leaders are preparing for their first face-to-face meeting in more than twelve months, a high-stakes encounter that could be their last best chance to keep an already costly trade dispute from spiraling into a new and broader cold war. Yet Xi and Trump will walk into their dinner on Saturday in Buenos Aires with very different goals in mind -- clouding the prospects for a grand bargain that could ease investors' concerns.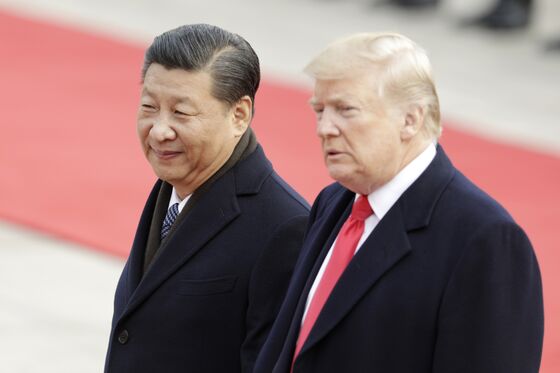 For Xi, the meeting is key to preserving China's four-decade relationship with the U.S. He seeks to prevent the economic conflict provoked by Trump's tariffs from spilling into other sensitive areas such as Taiwan -- a red line for China -- and the key shipping lanes of the South China Sea. He'll be shadowed by a slowing economy, fragile stock market and international condemnation of China's treatment of Muslim Uighurs in the far western region of Xinjiang.
"The Chinese are looking for a floor from this meeting," said Dennis Wilder, a former senior director for Asia at the National Security Council under President George W. Bush. "Xi has got to find a way to stop the bleeding here; he's trying to stop the spiraling down from getting any worse."
For Trump and his aides, the dinner offers an ideal venue to air long-standing U.S. grievances over trade, particularly complaints about intellectual property theft and forced transfer of technology. Trump's grievances also include China's possible currency manipulation, a point he alluded to early Friday in Buenos Aires before signing a new trade deal with Canada and Mexico.
"We have dramatically raised standards for combating unfair trade practices confronting massive subsidies for state owned enterprises and currency manipulation that hurt workers in all three of our countries," he said. "The currency manipulation from some countries is so intense, so bad."
Ahead of the G-20, Trump and other U.S. officials projected optimism about a deal -- even as they laid out terms that Xi would find hard to accommodate in the near term.
Officials on both sides have been working for weeks on the contours of a potential temporary truce, in which the U.S. would delay further ramping up tariffs on China in exchange for concessions, according to people familiar with the discussions. The two leaders would also need to agree on a framework for further talks, U.S. officials including Commerce Secretary Wilbur Ross have said.
Responding to China's Rise
The stakes go beyond trade and reflect a broader strategic challenge to the global order. The U.S. is grappling with Beijing's growing global clout, while China wants recognition as a great power and to push back against decades of American military dominance in the Pacific.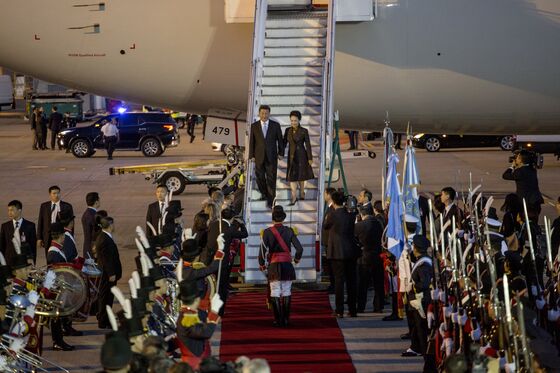 The outcome of the dinner will be closely parsed by investors and companies looking for signs of whether the next step will be detente, or more escalation. An increase in tensions would further weigh on financial markets already rattled by the potential impact of the trade war on economic growth.
As fears of a global growth slowdown intensify, the dollar has climbed more than 6 percent since mid-March, boosted by a combination of Federal Reserve tightening and investors fleeing to safer assets. The standoff has seen the onshore yuan slump about 6 percent against the greenback this year, raising speculation that China has been deliberately weakening its currency and drawing Trump's ire.
Trump has said he's ready to impose more tariffs if the talks don't yield progress. He sought again this week to show his resolve, telling the Wall Street Journal on Nov. 26 that he would be willing to expand tariffs to cover all Chinese goods, even if it raised the prices of laptops and mobile phones popular with U.S. consumers, including the iPhone.
Yet Trump has balanced those threats with expressions of confidence that he and Xi will come to an agreement since the two men broke a stalemate in U.S.-China talks with a Nov. 1 phone call.
"We're very close to doing something with China, but I don't know that I want to do it," Trump told reporters Thursday morning as he departed for Argentina. "I will tell you that I think China wants to make a deal."
Chinese officials consider a grand bargain unlikely. Instead, China wants the meeting to serve as a signal that cooperation is still possible between the two powers and establish a foundation for future discussions, according to one official. Beijing's negotiators don't think all the countries' differences can be resolved when the leaders sit down, said the official, who spoke on condition of anonymity.
The U.S. side has spent the last month preparing for the Xi meeting, with officials at the Treasury and Commerce Departments among those drafting a potential deal to stop the escalating trade conflict. Chinese officials in early November outlined a series of potential concessions to the Trump administration for the first time since the summer, though the commitments so far fall short of the major structural reforms Trump has sought.
Trump and his aides have repeatedly argued that any breakthrough will be the result of leverage Washington has built over Beijing through tariffs. The U.S. has imposed duties on $250 billion in Chinese imports, and a 10 percent tariff on $200 billion of those goods is due to rise to 25 percent on Jan. 1. Trump has also threatened to impose tariffs on the remaining $267 billion worth of Chinese products imported last year.
Trump's administration is aware that tariffs are starting to hit U.S. companies and the outlook for global growth, according to a U.S. official familiar with the deliberations. Yet the president's top advisers remain divided over their next move.
Some members of Trump's team believe the tariffs have already begun to prod China to offer substantive reforms, the official said. Yet trade hawks in his administration think China will need to see more pain before it's ready to make a deal that would satisfy Trump, the official said.
The trade fight has exposed deeper tensions, as a growing crowd of China critics in Washington seek to push back against Beijing's challenge to the U.S.-dominated world order. The Trump administration has revived efforts to assemble a regional coalition of democracies, including Australia, India and Japan, to counter Chinese military expansion and influence it's gaining through infrastructure investment programs.
China has protested increased U.S. naval patrols in the Western Pacific, including a near-collision between a U.S. ship and a Chinese destroyer and an American warship's transit this week past the democratically run island of Taiwan. Congress, meanwhile, has passed legislation calling for increased military support for Taiwan, which Beijing considers a province, and urged sanctions against top Communist Party officials responsible for the mass detention of Muslim minorities in China's western region of Xinjiang.
Foreign Ministry spokesman Geng Shuang on Friday said a U.S. ship had entered Chinese territorial waters earlier this week near South China Sea islands known as Xisha in Chinese and the Paracels elsewhere. China sent vessels to warn the ship off, Geng said.
The moves have fed fears in Beijing and beyond that the trade fight, if left unchecked, could push the countries into a long-term struggle reminiscent of the Cold War. During a pair of regional summits earlier this month, former Treasury Secretary Hank Paulson warned that China and the U.S. could raise an "economic Iron Curtain'' that divides the world while Singaporean Prime Minister Lee Hsien Loong said smaller countries were being forced to pick sides.
The meeting this weekend in Buenos Aires may set the course for the relationship for years. It will be comparable in importance to the first G-20 leaders summit 10 years ago at the height of the financial crisis, said Diego Ramiro Guelar, Argentina's ambassador to Beijing.
"In 2008 you had a very real crisis. In 2018, we have an atmosphere of crisis that's generating fear and unpredictability," Guelar said. "There is major anxiety about failure or success and much depends on signals from the US and China."