Trump Vows to Outspend Russia, China on Nuclear Arsenal Buildup
(Bloomberg) -- The U.S. will outspend any other nation in building up its nuclear arsenal, President Donald Trump said, in a fresh challenge to Russia and China.
"We have more money than anybody else, by far. We'll build it up," Trump said after being asked late Monday if he was prepared to build up the U.S.'s nuclear arsenal. "Until they come to their senses. When they do, then we'll all be smart and we'll all stop."
Speaking before leaving Washington for a mid-term election campaign rally in Houston, Trump repeated his intention to terminate the Intermediate-Range Nuclear Forces Treaty, known as INT, with Russia. He said Moscow had "violated the agreement" on intermediate-range conventional and nuclear weapons -- accusations that Russia has repeatedly rejected.
"It's a threat to whoever you want," he added when asked if it was a threat to Russian President Vladimir Putin. "And it includes China, and it includes Russia, and it includes anybody else that wants to play that game. You can't do that. You can't play that game on me."
Congress may not share Trump's enthusiasm for burying China and Russia with another costly nuclear arms race. While lawmakers approved a 4 percent funding increase for the Department of Energy nuclear weapons budget last month, Trump's Republican Party is at risk of losing control of the House in midterm elections in two weeks -- a shift that would give him less leeway to boost spending.
Countries around the globe urged the U.S. to stay in the three-decade-old arms control treaty with Russia. The European Union said the two sides "need to remain engaged in constructive dialog to preserve the treaty," while China said the move would generate "multiple negative effects."
"The U.S. is unilaterally pulling out of the pact while making an issue out of China," Foreign Ministry spokeswoman Hua Chunying told reporters Tuesday in Beijing. "This action is completely unreasonable. China upholds a defensive national defense policy and will never accept any form of blackmail." Hua repeated her call Monday for the U.S. to "think twice" about quitting the treaty.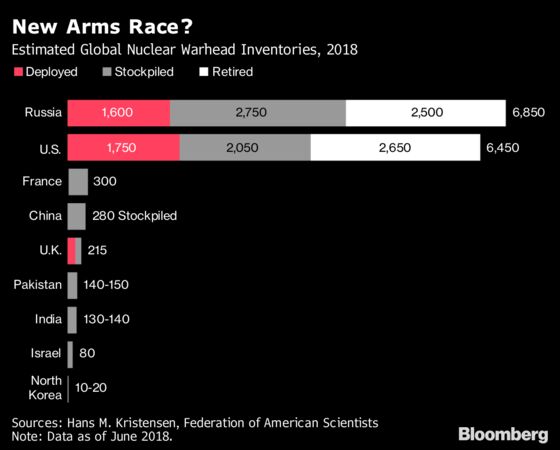 Trump's latest comments came the same day as the U.S. Navy sailed two warships through the Taiwan Strait for the second time since July, a show of force that threatens to further exacerbate tensions with China.
Without the restrictions of the 1987 treaty, China has had a free hand developing and deploying intermediate-range nuclear missiles of its own, including missiles designed to take out U.S. aircraft carriers patrolling the waters of the Western Pacific. Exiting the accord would free the U.S. to deploy new weapons in the Indo-Pacific to respond to China's attempt to erode its post-World War II dominance.
"China hasn't signed the agreement and has been producing mid-range missiles and so-called carrier killers to asymmetrically increase the costs of an American-led naval containment strategy," said Stephen Nagy, a senior associate professor at the International Christian University in Tokyo. "The U.S. is likely withdrawing to send a message to Beijing that the U.S. can and will produce mid-range nuclear weapons that can erode away China's existing asymmetric advantage."
The prospect of a U.S. weapons buildup would underscore concern in Beijing that the U.S. is intent on thwarting China's rise, be it via a trade war or a systematic program of military containment. Since Trump's election U.S.-China relations have deteriorated on virtually every front, from trade to cyber-security to geopolitical flash points like Taiwan and the South China Sea.
Under the 1987 agreement, the U.S. and the former Soviet Union committed to eliminate all ground-based nuclear and conventional missiles with a range between 500 to 5,550 kilometers (310 to 3,420 miles).
China's collection of intermediate missiles -- including the recently developed DF-26s -- form the backbone of its offensive capabilities in the Asia Pacific and are designed to hit targets along the strategic "first and second island chains," according to Zhang Baohui, director of the Centre for Asian Pacific Studies at Lingnan University in Hong Kong.
The "first island chain" is a string of archipelagos stretching from Japan, past Taiwan to the Philippines -- all U.S. security partners. The "second island chain" runs southward past Guam toward Papua New Guinea. Guam hosts a major U.S. naval base for the Pacific Ocean.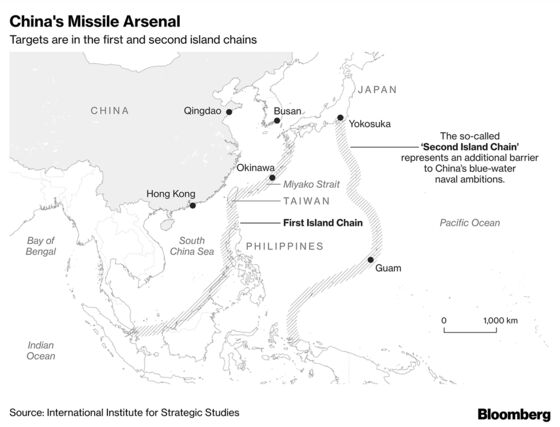 "A China factor in the U.S. decision to withdraw from the treaty is highly plausible," Zhang said. "It is China, not Russia, that is possessing an ever-increasing number of medium and intermediate range missiles."
As it would take time to build new nuclear-tipped missiles, the U.S. was preparing to modify existing weapons, including its non-nuclear Tomahawk missiles, and was likely to deploy them first in Asia, the New York Times reported, citing officials who have been briefed on the issue. The weapons may be based in Japan, or at the U.S. naval base in Guam where it would face little political opposition, the Times reported.
"China would have little choice but to spend more on the military -- read less on the economy -- or come to the negotiating table to come to an agreement about mid-range systems," said Nagy. "This would have the effect of removing their existing anti-access area denial strategy."