Trump Vents Frustration With Trade Czar as China Talks Continue
(Bloomberg) -- President Donald Trump and his top trade negotiator, Robert Lighthizer, have grown increasingly frustrated with each other as a China trade deal stays elusive with a key deadline less than a week away, said people inside and close to the administration.
The exasperation between the two erupted into the open during an unusual public exchange in front of China's top negotiator, assembled U.S. officials and journalists on Friday, during which Trump took issue with Lighthizer's explanation that any deal would take the form of a memorandum of understanding.
"I don't like MOUs because they don't mean anything,'' the president said, before shooting down Lighthizer when the career lawyer described such documents as legally binding.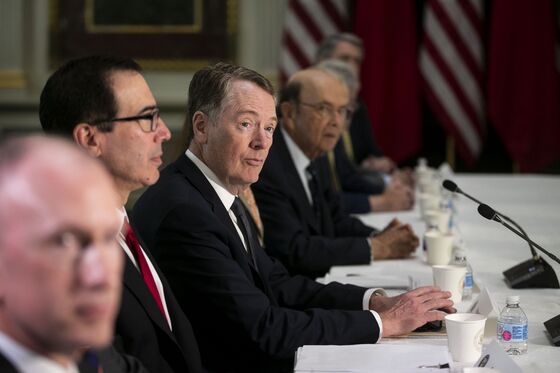 After Friday's exchange, said two people familiar with the events, the president complained that Lighthizer had embarrassed him by publicly correcting him in front of the Chinese delegation and the press. The president also expressed frustration that Lighthizer hadn't yet stitched up a deal that Trump views as increasingly important.
Talks between Lighthizer and other senior U.S. officials and Xi's special envoy, Liu He, continued on Saturday and were due to resume on Sunday. In a post on Twitter, the president said Sunday that the weekend talks have been "very productive."
"The talks with China are still ongoing. Thanks to President Trump's firm leadership we are making strong progress on substantive structural issues,'' a senior USTR official said in response to a request for comment. The White House declined to comment.
Trump's disappointment with his trade czar has built in recent months, according to people close to the administration, fueled by the stock market's precipitous drop in late 2018 as the trade war with China escalated. U.S. stocks logged their worst December performance since the Great Depression, and had their biggest annual decline since 2008.
Lighthizer, a longtime China hawk, was one of the chief architects of the policy that led to Trump imposing tariffs on some $250 billion in imports from China. While Trump has declared himself to be a "Tariff Man," he's also been increasingly eager to close what he's pre-emptively billed as an historic deal with China.
For his part, Lighthizer, 71, who's spent years arguing for a tougher trade stand against China, has been growing irritated with Trump's interventions, according to people familiar with the administration's internal deliberations.
In recent weeks Trump has said that a deal would only be concluded when he and Xi held their own summit to iron out the final differences. Trump has also publicly raised the possibility of extending a March 1 deadline for tariffs on $200 billion of Chinese imports to increase to 25 percent from 10 percent.
Those moves and Friday's public Oval Office disagreement have been read as weakening Lighthizer's hand in the talks with China. Lighthizer's frustration hasn't reached the level where he's likely to resign, said one person familiar with internal White House deliberations. But officials from USTR have been making calls to surrogates thanking them for holding a tough line on China talks publicly.
Another person close to Lighthizer on Saturday disputed that there was any rift with the president or any other administration officials, insisting that Trump's trade boss was liaising daily with Treasury Secretary Steven Mnuchin and others including the president, and that the talks were continuing to make progress.
Other China hawks in the administration and in Congress, however, have been more open about their frustration.
They worry that, having built up considerable leverage through his tariffs, Trump has become too focused on cutting a deal to calm financial markets, and that any agreement may fail to address core issues such as intellectual property theft. The concern is that a deal could end up seeing only a short-term increase in Chinese purchases of U.S. agricultural and energy products.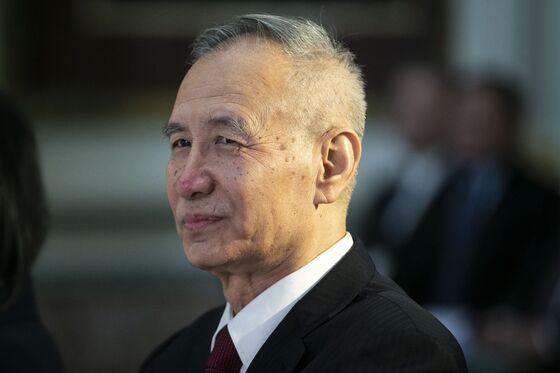 "No matter how many tons of soybeans they buy if China gets to keep cheating & stealing trade secrets it won't be a good deal for America, our workers or our national security,'' Republican Senator Marco Rubio of Florida tweeted on Friday after Agriculture Secretary Sonny Perdue said China offered to buy 10 million tons of soybeans as talks continued.
On the flight back from the leaders' Dec. 1 dinner in Argentina, at which a 90-day truce was agreed, the president tasked Lighthizer with getting a China deal. When Lighthizer told him that he believed Beijing wasn't ready to make meaningful concessions, Trump insisted a resolution had to be found, according to one person briefed on the exchange.
Mnuchin and National Economic Council Director Larry Kudlow have been making the case to the president that investors expect a deal, and not getting one would cause U.S. stock markets, which have started the year strongly on trade optimism, to stumble again, according to people familiar with internal deliberations.
They've also advised Trump to hold off on issuing an executive order that would ban Huawei Technologies Co. and other Chinese telecoms equipment from U.S. networks for fear taking action against Chinese companies would undermine the trade negotiations.
Hawks in the administration worry that Trump will ultimately not take a tough stance against those companies, even though they've been accused of espionage and trade secret theft and U.S. officials including Secretary of State Michael Pompeo have been traveling the world urging allies not to use any Huawei or ZTE Corp. equipment in new 5G networks.