Trump Tirade Signals Mueller's Hit a Nerve
If Donald Trump's Twitter feed is any gauge, he's feeling the pressure of Special Counsel Robert Mueller's investigation, as the president's former campaign chairman Paul Manafort prepares to face trial tomorrow.
Having derided the investigation into alleged campaign meddling by Russia as a "disaster" and politically-motivated witch hunt, Trump opened a new line of attack. He demanded that Mueller disclose "conflicts of interest" that he said stemmed from a nasty and contentious business relationship between them.
The president's latest broadside was part of tweet storm in which Trump also escalated his complaints about press coverage and laid down fresh threats over immigration.
It followed CNN's report last week that the president's former personal lawyer, Michael Cohen, is prepared to testify that Trump knew in advance about a notorious 2016 meeting between top campaign officials, including his son Donald Jr. and son-in-law Jared Kushner, and Russians promising dirt on Hillary Clinton. The president denied the claim in a tweet.
With Mueller drawing closer to issuing a report on his findings — perhaps ahead of November midterm elections that will determine control of Congress — Trump's efforts to discredit him are only likely to intensify.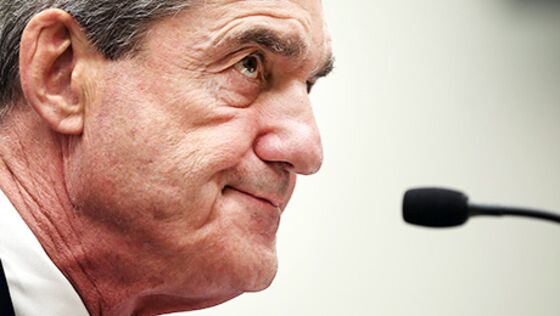 Immigration shutdown 2.0 | Trump yesterday tweeted that he'd "be willing" to shut down the U.S. government when current funding expires Oct. 1 if he doesn't get his way on immigration measures, including money for a Mexican border wall. A partisan dispute over immigration policy triggered a three-day partial government shutdown in January. But Republican lawmakers would be reticent to allow a funding lapse a month before the midterm elections.
Brexit man | Bank of England Governor Mark Carney says Brexit preparations now take up half his time, crowding out other work. In an interview last month with Bloomberg's Stephanie Flanders, Carney said the bank has "a responsibility, at a minimum, to manage through the downside if there were a disorderly outcome." The Canadian views his outside status as an advantage that helped him manage change at the 324-year-old institution after he became its first non-British governor in 2013.
Close contest | Zimbabweans vote to elect a new president today, eight months after Robert Mugabe's forced resignation ended his 37-year rule. Mugabe, 94, made his first public appearance since then on the eve of polling to denounce the ruling party for removing him and to back the main opposition Movement for Democratic Change. Polls suggest it's too close to call between his former deputy Emmerson Mnangagwa and MDC leader Nelson Chamisa.
Strongman returns | Cambodian leader Hun Sen extended his 33-year grip on power, easily winning a boycotted election after he banned the main opposition party last year. The prime minister's consolidation of control is a boon for China, which sees Cambodia as a voice of support for its geopolitical aims in the region – particularly regarding disputed territory in the South China Sea.
Trade and logic | Chinese Foreign Minister Wang Yi dismissed Trump's deficit criticism as "perplexing," comparing it to a shopper who buys a $100 product and complains he's $100 short. "Does that logic stand up?" Wang said in Beijing, with new U.K. Foreign Secretary Jeremy Hunt looking on. Still, the Chinese diplomat held open the door to resuming trade talks, provided they're "based on equality and mutual respect."
It's a busy week for economy watchers with central bank meetings in the U.S., U.K., Japan and India and Treasury Secretary Steven Mnuchin set to unveil plans to finance the surging U.S. budget deficit. BNP Paribas senior European interest-rate strategist Eric Oynoyan says "central banks are back in the bond market driving seat."
Italian Prime Minister Giuseppe Conte's meeting with the president at the White House today comes after two of his deputy ministers picked fights last weekend with the European Union - an entity in Trump's cross hairs - over Brexit and on spending.
And finally...One company in Asia is celebrating the trade tensions between the U.S. and China: Taiwan electronics producer New Kinpo Group says inquiries about its plants in Thailand and the Philippines are on the rise. New Kinpo has 28,000 workers in the two countries - three times its headcount in China, where its products fall under Trump's tariffs. "President Trump is helping us a lot, so I like him more and more," CEO Simon Shen says.