French Winemakers Become Trump's Latest EU Trade Target
(Bloomberg) -- French winemakers are the latest European industry to suffer threats from U.S. President Donald Trump, who is seeking to repair what he views as an unfair trade relationship between the two regions.
The U.S. is the biggest client for EU wine producers, absorbing almost a third of the bloc's exports last year, according to the EU's statistical office. By contrast, the U.S. accounts for only 16 percent of the EU's wine imports, well behind Chile and also trailing Australia, Eurostat said on Monday.
So how much money is at stake if this quarrel escalates? For France, quite a lot: Wine exports is a 9.1 billion-euro ($10.3 billion) market for France, which accounts for around 41 percent of EU shipments, followed by Italy (6 billion euros, or 27 percent of total exports) and Spain (2.9 billion euros, or 13 percent of total exports).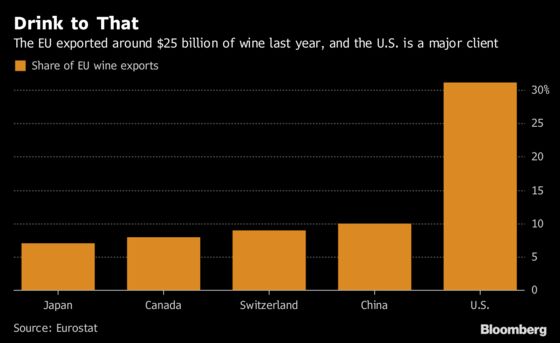 Any potential U.S. measures against French wine would have to target the entire EU, as the bloc is a common trade area. The EU exported 11.3 billion euros of wine last year to third countries, 32 percent of which was to the U.S. This means that any potential duties would be a blow similar in size with aluminum levies imposed earlier this year.
On the other hand, EU member states imported a total of 12.9 billion euros of wine in 2017, but only 20 percent of these imports came from outside the EU. And out of this small share, only 16 percent was American wine.