Trump Still in 'Throes' of Working on Farm Aid, Perdue Says
(Bloomberg) -- The Trump administration is still in the "throes" of assembling the president's promised agriculture aid package for an industry hurt in the trade war with China, but it will probably include direct payments to farmers similar to those in last year's trade assistance.
Agriculture Secretary Sonny Perdue suggested Wednesday that the aid package might grow beyond the $15 billion President Donald Trump announced Friday as he escalated the trade war by increasing tariffs on $200 billion in Chinese products and threatening additional tariffs.
Asked to estimate the economic damage to farmers and potential scale of the aid package, Perdue responded "our calculations initially probably range between $15 and $20 billion," though the department is still making assessments. He said his department is "expediting" preparation of the aid plan but declined to be give a more specific timeline.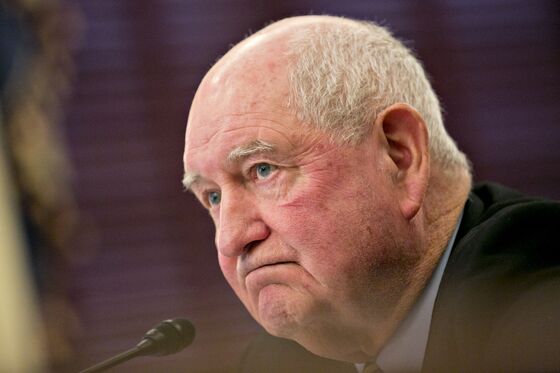 Trump said on Friday that the U.S. would bolster its purchases of domestic farm products for humanitarian aid in an effort to offset lost demand from China, though some farm groups and experts said that was unrealistic.
Rural Americans were among the most enthusiastic supporters of Trump in the 2016 election, but the worsening impact of the trade war on agricultural exports is sparking criticism from farm groups.
Perdue told reporters in a conference call that the aid package would probably include aid to farmers based on their crop production.
"We are assuming it will contain direct payments for commodities," Perdue said. "We are in the throes of constructing it."
The payment levels in last year's aid package have sparked complaints from some producers that their crops were treated unfairly.
The National Corn Growers Association sent out a call to action earlier Wednesday urging farmers to tell Trump that the 1 cent-per-bushel payment that growers received under the previous market facilitation payments wasn't enough.
Perdue said the administration is "trying to listen to all the stakeholder comments from last year" but "overall we were very, very pleased with how the program went."
He spoke from Seoul after completing trade talks with Japan and South Korea, which he called "productive."