Trump Says Huawei 5G Debate Poses 'No Problem' to U.S.-U.K. Ties
(Bloomberg) -- President Donald Trump said the U.S. and U.K. will be able to find common ground on Huawei Technologies Co., the Chinese telecom giant the U.S. has sought to bar from 5G networks, citing security concerns.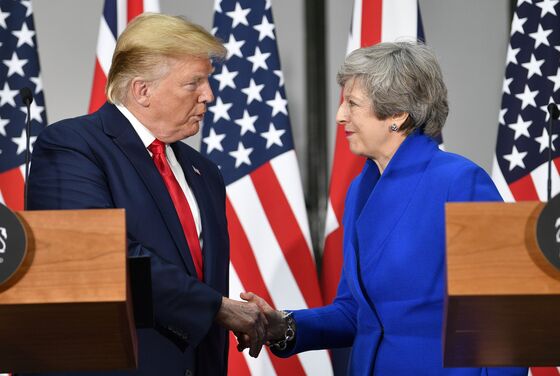 "We are going to have absolutely an agreement on Huawei and everything else. We have an incredible intelligence relationship and we will be able to work out any differences," Trump said Tuesday during a joint press conference in London with British Prime Minister Theresa May. "This is a truly great ally and partner and we will have no problem with that."
The Trump administration is seeking to choke off Beijing's access to key technologies by limiting the sale of vital U.S. components to Huawei, claiming the equipment could enable China to spy on its users. The U.S. move requires American suppliers of Huawei, a crown jewel of Chinese manufacturing, to seek U.S. government permission to do business with the company.
The Trump administration has been leaning on allies to exclude Huawei from 5G networks. May's spokeswoman told reporters earlier Tuesday that the government is still reviewing its policy on Huawei and will make a decision based on "hard-headed technical assessments."