Trump Says He Will Meet Kim in Hanoi for Their Second Summit
(Bloomberg) -- President Donald Trump said he will hold his second summit with North Korean leader Kim Jong Un in the Vietnamese capital of Hanoi later this month. His tweet announcing the meeting was followed by another predicting that North Korea would become "a great economic powerhouse" thanks to Kim's leadership.
"My representatives have just left North Korea after a very productive meeting and an agreed upon time and date for the second Summit with Kim Jong Un," Trump wrote on Friday night. "It will take place in Hanoi, Vietnam, on February 27 & 28. I look forward to seeing Chairman Kim & advancing the cause of peace!"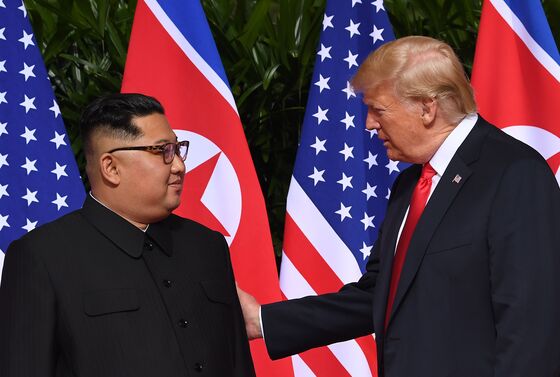 The upcoming meeting follows an historic summit in Singapore last summer. In his State of the Union address, Trump said that while "much work remains to be done," he was hopeful his "good" relationship with the North Korean leader would yield results in ongoing nuclear talks.
"We continue our historic push for peace on the Korean Peninsula," Trump said.
In the second tweet, Trump predicted a promising future for Kim and his country. "North Korea, under the leadership of Kim Jong Un, will become a great Economic Powerhouse. He may surprise some but he won't surprise me, because I have gotten to know him & fully understand how capable he is. North Korea will become a different kind of Rocket - an Economic one!"
Before their first meeting, Trump derided Kim as a "Little Rocket Man" with nuclear ambitions. The North Korean regime has long been regarded as one of the world's most repressive governments and responsible for widespread human-rights violations.
Although the North Korean economy is believed to have improved in recent years, it has been hurt by sanctions imposed over its nuclear weapons program and the country remains one of the poorest. The nation of 25 million people offers a labor force that remains largely untapped and holds minerals and rare earths that China has had a near monopoly on.
An administration official said that Kim preferred Hanoi over Danang, another Vietnamese city that was considered for the summit. The official, who was granted anonymity to discuss the preparations for the meeting, said Vietnamese officials considered their capital a more prestigious setting, and that Trump did not particularly care either way.
Trump will face pressure to achieve more during the next meeting with the North Korean leader, after the first summit did not yield commitments from Kim to allow weapons inspections or dismantle its growing arsenal of warheads and intercontinental ballistic missiles.
In recent months, North Korea has said it would consider a step-by-step approach, pairing actions to denuclearize with incentives, including the removal of economic sanctions crippling its economy. In a New Year's address, Kim threatened a "new path" if the U.S. didn't ease "vicious" sanctions.
Vietnam was considered a favorable location for the summit because Kim could travel to the country with a flight largely over friendly Chinese territory. Representatives of Vietnam's Foreign Ministry did not immediately respond to a request for comment after Trump's announcement.