Trump's Total Tariff Threat Spells Shock for Asia's Supply Chain
(Bloomberg) -- Donald Trump's threat to place tariffs on all Chinese imports will, if enacted, reverberate through the heart of Asia's integrated technology supply chain and hurt economies like South Korea and Taiwan.
It's one reason why so much hangs on planned talks between the U.S. President and his Chinese counterpart Xi Jinping at this week's Group of 20 talks in Buenos Aires, Argentina. A trade war truce would lift pressure off Asia's big tech-exporting economies at a time of slowing demand.
No deal will mean the opposite.
"If Mr. Trump goes ahead with tariffs on all Chinese goods, it would send a serious shock through the Asian supply chain," said Freya Beamish, chief Asia economist at Pantheon Macroeconomics Ltd.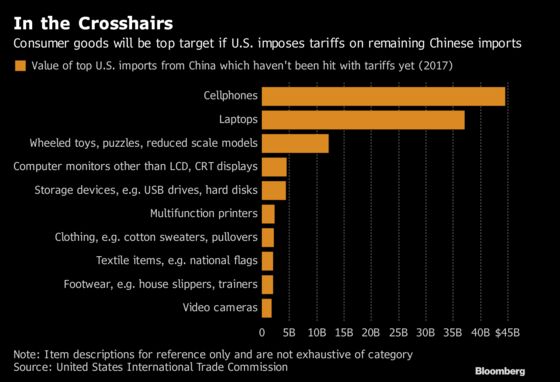 If Trump carries out his threat to add tariffs on the rest of Chinese imports, that would cover high technology equipment -- 93 percent of U.S. laptop imports came from China in 2017 as did around 80 percent of mobile phone imports, according to Deutsche Bank AG.
The sting for Asia is that much of those high tech goods are made in various stages around the region, with only final production in China. An analysis by Deutsche Bank AG estimates that while China notionally exports about $45 billion worth of mobile phones to the U.S., more than 80 percent of the value comes from parts imported from other Asian countries as well as American-owned intellectual property.
"Further escalation in U.S.-China trade tensions could pose additional headwinds to Asia's chip exports in the short term and disrupt the Asia tech supply chain in the longer term, which could take years to restore if it happens," economists at Goldman Sachs Group Inc.
The Goldman analysts describe China as the hub of the global tech supply chain and note it imported $448 billion worth of chips in 2017. They say exports from Taiwan and South Korea to China could be affected given electronics goods represented 55 percent and 47 percent respectively of their goods sales in 2017 to China.
That pressure comes as waning appetite for smartphones poses headwinds for Asia's tech-exporting economies. One example: Taiwan's Foxconn Technology Group, the biggest assembler of Apple Inc. iPhones, has warned of anemic demand.
That cooling will drag on the Asia wide economy. The region accounts for more than 60 percent of global growth and is projected by the International Monetary Fund to slow to 5.6 percent in 2018 and 5.4 percent in 2019.
"The trade war is set to morph into a tech war," said Diana Choyleva, chief economist at London based Enodo.