Trump's First Annual Budget Deficit Rises to a Six-Year High
(Bloomberg) -- The U.S. budget deficit grew to $779 billion in Donald Trump's first full fiscal year as president, the highest since 2012 amid tax cuts and spending increases.
The budget gap for the 12 months through September was 17 percent wider than the same 12-month period a year earlier, as spending rose 3.2 percent and revenue gained just 0.4 percent, according to a Treasury Department report released Monday. The deficit as a share of total economic output was 3.9 percent in fiscal 2018, up 0.4 percentage point from the prior year. The government's fiscal year runs from Oct. 1 to Sept. 30.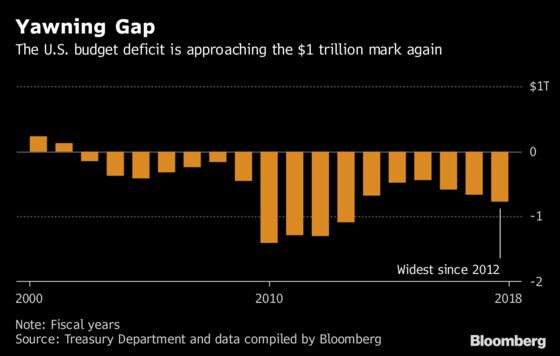 The budget deficit has continued to climb in recent years, raising concerns the country's debt load of more than $21.5 trillion will grow out of control. The Treasury reported this month that the government paid $523 billion in total interest in fiscal 2018, the highest on record.
The Treasury report also comes just weeks before midterm elections in Congress and threatens to undermine a longstanding Republican argument that the GOP is a better steward of the nation's finances. Trump frequently criticized his Democratic predecessor Barack Obama for running up the deficit, and in 2012 recommended banning lawmakers from reelection if Congress couldn't balance the budget.
But the Congressional Budget Office, a nonpartisan arm of Congress, forecasts government spending will outweigh revenue by $973 billion in fiscal 2019 and more than $1 trillion the next year. That would be the first time the deficit exceeds $1 trillion since 2012, when the American economy was still recovering from the Great Recession.
Republican tax cuts, increased federal spending and an aging population have contributed to the fiscal strains, though the GOP says tax reform enacted this year will spur economic growth and lift government revenue. Corporate income-tax receipts fell 31 percent in fiscal 2018 while individual income taxes gained 6.1 percent, according to Treasury data.
"America's booming economy will create increased government revenues -- an important step toward long-term fiscal sustainability," Trump's budget director, Mick Mulvaney, said in a statement accompanying the Treasury report. "But this fiscal picture is a blunt warning to Congress of the dire consequences of irresponsible and unnecessary spending."
In an effort to finance the yawning budget gap, Treasury has signaled it will step up the pace of debt issuance, borrowing $769 billion in the second half of the current calendar year. That would be the most since 2008.
Trump's top economist, Kevin Hassett, said this month the president will unveil measures soon to address the shortfall, without providing specifics.
"The deficit is absolutely higher than anyone would like," Hassett said at the time.