Trump's China Bark Is Worse Than His Bite
(Bloomberg Opinion) -- Are relations between China and America headed toward an even deeper breach?
"We could cut off the whole relationship now," he said in an interview with Fox Business News. "If we did, what would happen? We'd save $500 billion." The risk of a military clash between the two countries is increasing even if neither side wants war, Hu Xijin, the outspoken editor-in-chief of China's Global Times tabloid, wrote on Twitter.
For all the intemperate language, there's less to this latest clash than meets the eye. Trump and Beijing are both adept at filling their diplomatic language with sound and fury, signifying nothing. A look at China's other strained ties shows there's usually far more realpolitik than ego at play.
Take Australia. The testy relationship with Canberra is going through another bad patch, with China threatening tariffs on barley and banning beef imports from some slaughterhouses after Australia called for an inquiry into whether its wet markets were responsible for the emergence of coronavirus.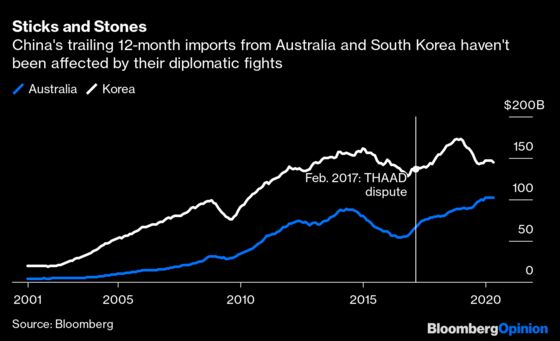 Australia exports more to China than to its next four biggest trade partners put together. From China's perspective, only the U.S., Japan and South Korea buy more mainland goods. Yet Canberra has been in the doghouse with Beijing for several years. The last meeting between their leaders was in 2016. Chinese President Xi Jinping hasn't managed to fit the country into his busy travel schedule since 2014. Recent years have been dotted with spats over foreign-influence laws, China's human rights record, its detention of Australian writer Yang Hengjun, and even a doping scandal around now-banned Olympic swimmer Sun Yang.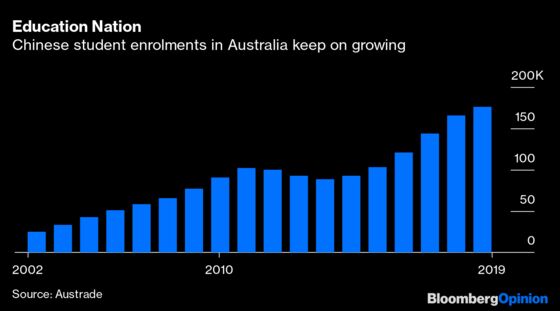 In spite of all that, economic and social relations are as good as they've ever been. Chinese imports from Australia have never been higher than in the 12 months through December; the number of Chinese students enrolling at the country's universities was also at a record, running nearly double the level when warmer ties prevailed back in 2014.
Last year's trade diplomacy stand-off centered around claims that China was using customs checks to impose a soft ban on Australian coal exports, but in the end trade volumes for that commodity rose about 21% from a year earlier in the 12 months through March.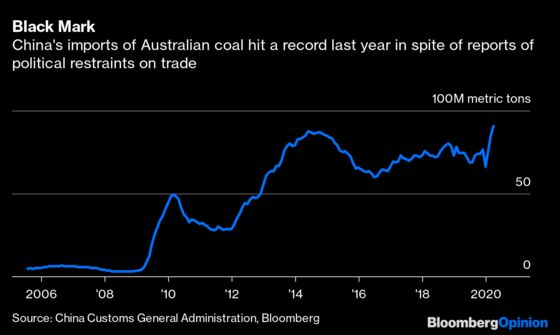 The best explanation for this is that while Beijing's leadership might try to bully smaller nations like Norway, self-preservation instincts make it entirely pragmatic in how it deals with key exports from major trading partners. That's even been the case with the likes of South Korea: Its shipments to China increased by 11% during 2017 despite bad blood engendered by a highly public dispute over a U.S.-supplied missile shield system. Brazil's President Jair Bolsonaro came to office seemingly hell-bent on antagonizing Beijing at every opportunity. China's leaders have steadfastly refused to take offense, and have even worked hard to woo a nation they see as a rich source of iron ore, soybeans and meat.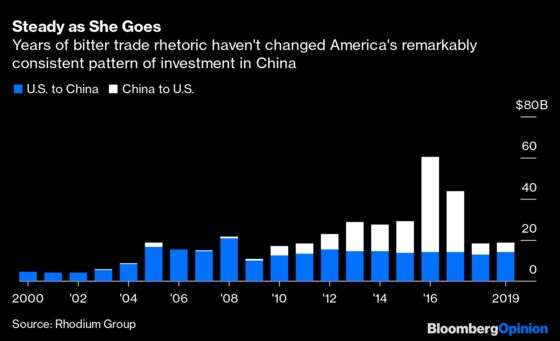 The U.S. seems to behave in a similar manner, in spite of all the heated words from the Oval Office. Three years into a simmering trade war, direct investment in China by U.S. businesses in 2019 was running at the $14 billion a year level it's followed in almost every year since 2005, according to Rhodium Group, a research consultancy. While flows in the opposite direction plummeted, that was as much to do with a general reversal in China's attitude to outbound investment and tougher regulatory scrutiny in Washington, as with a decision to punish the U.S. for its trade stances.
The slow deterioration of the U.S.-China relationship is still worrying, especially as the confrontational tone has spread to both parties in Washington and almost every echelon of the Chinese leadership. Countries that start to see themselves as rivals can end up behaving that way. Unless efforts are made to restore comity, the vicious spiral of mistrust can be impossible to escape.
Still, whenever leaders bicker it's worth remembering that the real ties between nations are among people and businesses, rather than diplomats and presidents. At that level, the relationship still remains hearteningly warm.
This column does not necessarily reflect the opinion of the editorial board or Bloomberg LP and its owners.
David Fickling is a Bloomberg Opinion columnist covering commodities, as well as industrial and consumer companies. He has been a reporter for Bloomberg News, Dow Jones, the Wall Street Journal, the Financial Times and the Guardian.