Trump Pandemic Response Turns 'America First' Into America Last
(Bloomberg) -- Donald Trump's first weeks as president were marked by a travel ban -- one he imposed on seven Muslim-majority countries. Now with four months left until the next U.S. election and the coronavirus pandemic spiking at home, Americans are the ones barred from most overseas travel.
For critics of Trump's "America First" worldview, there is bitter irony in this moment. They point to the new travel ban -- with other nations barring entry to U.S. citizens because of the virus -- as one of many symbols of America's lost standing. There's its inability to muster allies to its causes, the decision to quit the World Health Organization and the failure of its "maximum pressure" campaigns on North Korea, Iran and Venezuela to achieve their goals.
"You now have China on the list of countries that can enter the EU and not the U.S.," said Ellie Geranmayeh, a senior policy fellow at the European Council on Foreign Relations. "That speaks volumes symbolically. We're seeing the real-world consequences of U.S. foreign policy over the last three years, what it's meant and the damage it's done."
The symbolism of such moments is inescapable, and experts say they worry that there will be lasting damage to America's standing from its failure to get the coronavirus under control. With U.S. businesses hobbled because of the pandemic, the world's largest economy risks dragging down the global recovery rather than powering it as in past crises. The U.S. economy is now expected to contract by almost 6% this year, while China is projected to eke out growth of almost 2%.
That, in turn, may undercut a key source of America's influence, and the very idea at the heart of Trump's foreign policy approach: using economic might as a cudgel.
"If you're growing, you have more resources to distribute. That's chips you can give out, and that increases your geopolitical heft," said Bloomberg Chief Economist Tom Orlik. "If you're shrinking, you don't have that power."
While the president has pointed to record levels for the Nasdaq, the latest figures from the government showed a jobless rate at 11.1% in June compared with 3.5% just before the pandemic. Some 19.3 million Americans also remain on state unemployment benefit rolls, and it's not clear whether Congress and Trump will agree on a further round of stimulus.
Couple that with Trump's continued tariff threats against the European Union and new threats of sanctions on Germany for pressing ahead with the Nord Stream 2 gas pipeline, and allies are taking new precautions to protect themselves from the American economy, rather than seeking to take advantage of it.
After more than three years, the U.S.'s coercive economic diplomacy isn't having much of an impact. Punishing sanctions regimes on Iran, Venezuela, Russia and North Korea have elicited little to no change in those countries' behavior. And a tit-for-tat battle with China has made relations worse, not moderated Beijing's behavior.
The White House's plans for a trilateral meeting of North American trade partners this week fell apart when Canadian Prime Minister Justin Trudeau declined to participate, saying he'd stay home to take part in cabinet meetings and parliamentary debate -- an embarrassment for the Trump administration, which will host a meeting limited to Mexico's president and top officials instead.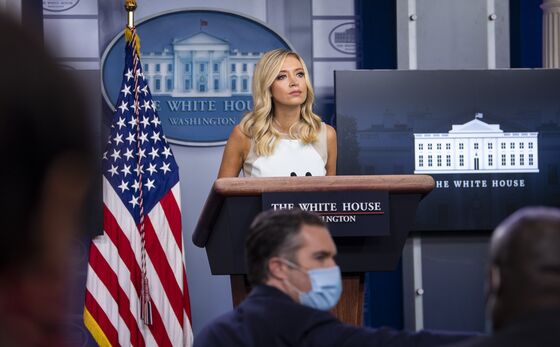 America's lost influence is manifesting in unpredictable ways. Fights with China, Vietnam and several other nations mean the U.S. has been unable to get its diplomats back into countries where they serve, hindered by host governments' demands to test Americans and isolate them if they test positive.
Asked how the White House thinks the rest of the world views the U.S. amid the European travel restrictions and the coronavirus outbreak, press secretary Kayleigh McEnany said Monday, "I think the world is looking at us as a leader in Covid-19."
She cited a "low case mortality rate" because "of the extraordinary work that we've done on therapeutics" and providing personal protective equipment and ventilators. Trump tweeted soon after that the "Mortality Rate for the China Virus in the U.S. is just about the LOWEST" in the world.
Outside the White House, there's a growing sense that the U.S. has so far failed to deliver on major foreign policy initiatives. It's isolated on Iran, and China has imposed a new national security law eroding Hong Kong's freedoms.
Secretary of State Michael Pompeo's exhortations to the UN Security Council last week further exposed resistance to Trump administration efforts to extend an arms embargo against Iran, with key allies including the U.K. and France using the forum to continue criticizing Trump's decision to quit the 2015 nuclear accord with Tehran.
"The president says and does things totally on his own while the rest of the team pursues a hodgepodge of different initiatives that don't align with each other, let alone cohere into a sustainable overall policy," said Andrew Weiss, a vice president at the Carnegie Endowment for International Peace. "Making matters worse, much of the policy and analytical apparatus has effectively been on hiatus during the pandemic."
A recent survey by the European Council on Foreign Relations found the majority of Europeans no longer see the U.S. as a reliable ally, with only 2% saying they found it "helpful" in the fight against the coronavirus.
Former Vice President Joe Biden, Trump's opponent in the November election, has made the virus crisis a top campaign issue.
"Because Trump can't do the most basic parts of his job, the United States is now viewed as posing a global health risk," Biden said in a statement. "A president who started his term by writing hateful travel bans is responsible for getting the American people banned from traveling."
Other recent revelations have only deepened the sense of pessimism and malaise about Trump's policies toward the rest of the world. In his recent book, former National Security Advisor John Bolton describes how Trump reversed himself often, failed to listen to advice, came a step away from withdrawing from the NATO alliance and cozied up to authoritarian leaders from Xi Jinping to Kim Jong Un to Iran's regime.
"A fluttering leaf could have turned him 180 degrees," Bolton writes in a book denounced by Trump and top officials. At one point, he describes a perilous decision-making process as "the danger zone of Trump's completely undercutting his own policies."
Rather than providing succor for dissidents and tormenting authoritarians, American messaging seems to have done the reverse.
Trump's proposal to invite Russian President Vladimir Putin to a G-7 meeting that he wants to hold in the U.S. in September drew criticism both abroad and at home, especially after intelligence reports suggested Moscow may have been paying bounties to Taliban fighters to kill Americans. And the president's use of force to clear peaceful protesters from a park in front of the White House was replayed around the world.
"Every country is paying attention, and those who are repressive have been pleased at how Trump is responding. They say, 'Look he did this. We can now do it, too,'" said Maina Kiai, a former special rapporteur with the United Nations' human-rights commission who's now with Human Rights Watch. "The rhetoric is really bad because people listen to the rhetoric and it carries weight around the world."