Just in Time for Election Day: Gas at $3 a Gallon
(Bloomberg Opinion) -- Gas prices are going in the wrong direction for American consumers. The national average is climbing towards $3 a gallon at a time of year when it should be falling. With midterm elections around the corner, that is uncomfortable news for incumbents.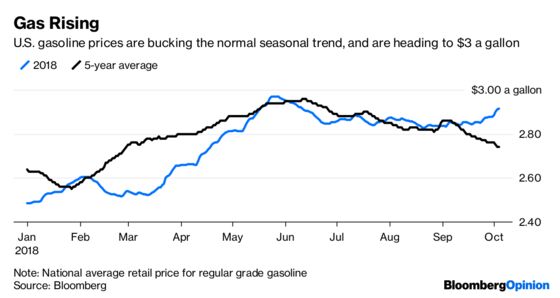 The reason is not hard to find. President Donald Trump decided to take almost 3 million barrels a day of crude oil off the market by reinstating sanctions on Iran, just as OPEC and its friends had succeeded in draining excess global inventories.
It may appear that OPEC+ has come to the rescue. Crown Prince Mohammed Bin Salman said the group has boosted supply by double the amount lost from Iran.
That statement is misleading. In reality, producers have struggled to make up the difference from the loss of Iranian supplies — just as I had forecast they would in May.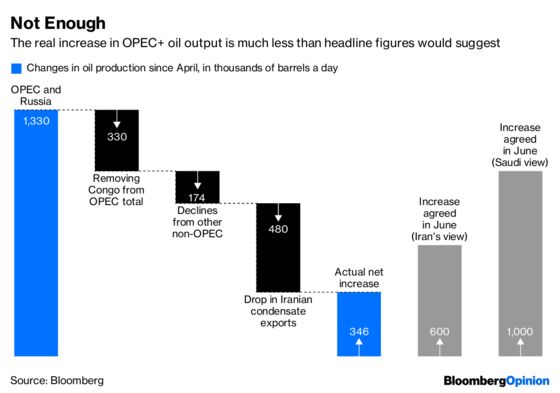 Data compiled by Bloomberg show that the combined output of OPEC and Russia has risen by 1.3 million barrels a day since April. But that is only part of the story. Three things need to be subtracted from this figure. First is the production from the Republic of Congo, which joined OPEC in June. Second is the continuing decline in output from other non-OPEC members of the group, most notably Mexico. Third is the drop in Iran's exports of condensates, a form of light crude extracted from gas fields, which are down substantially. That is going to have to be replaced somehow, and creates a call on flows elsewhere.
The net effect of all this is that total supply of crude and condensate from the original OPEC+ group has risen by around 350,000 barrels a day since April. That is a very long way from the approximately 1 million Saudi Arabia said in June would have to be added to balance the market.
It might appear that the Saudis are on their way to making up the difference. Energy Minister Khalid Al-Falih says that his country is already doing more. Oil production will be higher in November than the current 10.7 million barrels a day, he said in Moscow last week. Exports, he added, will exceed 7.7 million this month. That would be the most since January 2017, according to figures submitted by his government to the Joint Organisations Data Initiative.
The problem is that Iran's exports also have a lot further to fall. Last month the nation achieved 1.7 million barrels a day — a drop of 1.1 million since April. Trump's aim is to cut it all the way to zero by Nov. 4.
Even if he fails to do that, a further big drop is all but inevitable this month, as the companies in Europe and elsewhere that are still buying Iranian oil will cease their purchases in time to meet his deadline. When I noted in August that the decline in the country's exports would be bigger than most analysts expected, I'd assumed that India would cut its purchases by 50 percent. It now looks like it will halt them altogether — at least initially. On top of that, shipments to China have also faltered.
The drop in Iranian exports from April to November could well be close to 2 million barrels a day. Saudi Arabia needs to add a lot more to compensate for the losses still to come.
The kingdom may have been counting on restarting fields in the neutral zone it shares with Kuwait to add around 500,000 barrels a day of production, but that hasn't quite gone as planned. The two countries have failed to agree on a way forward. 
Bin Salman says Saudi Arabia has 1.3 million barrels of spare capacity that it can tap in addition to the neutral zone. But bringing it into operation will take time and requires completion of expansion and repair projects that are currently underway.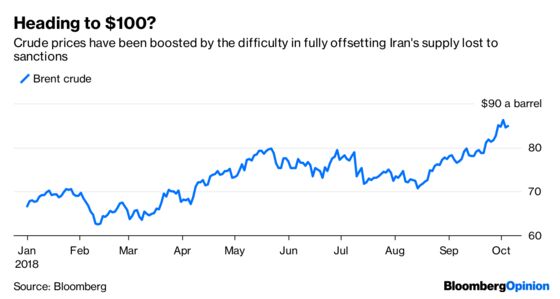 In the meantime, it is prices that are taking the strain. In a decade-old echo of his predecessor, Al-Falih last week blamed financial markets, not physical flows for the run-up in crude. The data suggest otherwise.
With Saudi spare capacity likely to take weeks, if not months, to mobilize in full, there may be little relief from soaring oil prices in time for the midterm elections. And the specter of $3 gasoline could arise just in time for U.S. voters to cast their ballots in early November.
This column does not necessarily reflect the opinion of the editorial board or Bloomberg LP and its owners.
Julian Lee is an oil strategist for Bloomberg. Previously he worked as a senior analyst at the Centre for Global Energy Studies.