Trump Floats China Deal as November Surprise
As recently as Sunday, Donald Trump was telling supporters China was "not ready" to cut a deal to end their trade war. Last night, he decided it is.
The U.S. president ordered Cabinet officials to draft terms for an agreement between the world's two largest economies, Jenny Leonard, Saleha Mohsin and Jennifer Jacobs report. The breakthrough came after Trump's "long and very good" phone call with Chinese counterpart Xi Jinping — their first confirmed conversation in six months.
"They want to make a deal," Trump told a rally in Columbia, Missouri. "He wants to do it." Global markets rallied on the news.
But Chinese state media said the call came at Trump's request, suggesting another catalyst: the Congressional midterm elections on Tuesday. In the campaign's final weeks, Trump has unveiled a flurry of proposals few expect to pan out, including cutting middle-class taxes and ending birthright citizenship.
"I don't buy the story for a second," said Michael Every, head of Asia financial markets research at Rabobank in Hong Kong. "This seems a perfect way to ensure equities rally into election day.''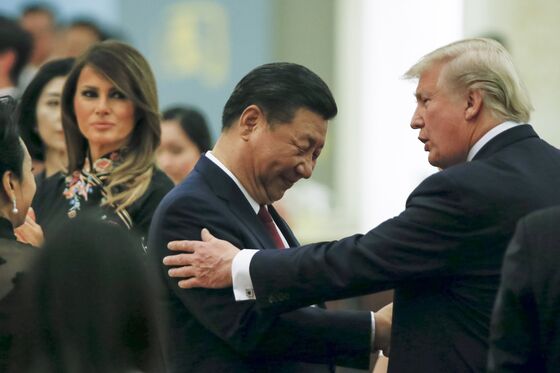 Iran sanctions | From midnight on Sunday, sweeping U.S. sanctions on Iran's energy and banking sectors go back into effect after Trump's decision in May to walk away from the six-nation nuclear deal with Iran that suspended them. The objective is to isolate Iran and deprive it of financial revenues, and they've already had some success. Iran's crude exports have slumped.
The Trump administration, fearful of provoking a price spike, is granting some importers partial waivers that would let them keep buying Iranian oil. While other OPEC producers have pledged to fill in any gap left by Iran, there are doubts they have enough supply to fully offset the shortfall.
Firing back | U.S. soldiers on the border with Mexico may fire on migrants who commit violence, Trump said, in another attempt to rev up his base ahead of the midterms. The president said people who cross into the country illegally would be detained in "massive" tent cities. He's been insisting without evidence that impoverished families walking toward the U.S. endanger Americans' safety. "They want to throw rocks at our military?" he said. "Our military fights back."
Gender gap | It's the year of the woman, but that isn't helping a lot of female Republicans. While a record number of women are running for office this year, that surge is mainly on the Democratic side, where candidates and voters are motivated by opposition to Trump, his treatment of women and the #MeToo movement, Arit John reports.
Inspired choice | Brazilian President-elect Jair Bolsonaro delighted his supporters by tapping a law-and-order hero for his choice as justice minister. For Federal Judge Sergio Moro, who earned fame for leading the anti-graft investigation known as Operation Carwash, the decision is trickier: It could fuel accusations that his past probes were politically motivated.
Targeting gold | Trump ratcheted up pressure on Venezuelan President Nicolas Maduro by imposing sanctions designed to disrupt the South American nation's gold trade, particularly with Turkey. The measures will probably bruise an already collapsing economy in Venezuela, which National Security Adviser John Bolton described yesterday as part of a "Troika of Tyranny" along with Cuba and Nicaragua.
Trump's "America First" rhetoric was never popular at the United Nations, but officials there are now worried they're losing a critical ally as the president's envoy, Nikki Haley, prepares to depart.
Bolsonaro yesterday confirmed he intends to transfer the Brazilian Embassy from Tel Aviv to Jerusalem.
And finally… Russia plans a quick return to space following last month's Soyuz rocket failure that forced its Russian and American crew to make the craft's first emergency landing since 1975. After blaming a sensor failure, the Roscosmos agency scheduled the next manned mission to the International Space Station for Dec. 3. NASA said U.S. astronaut Anne McClain is due to join a Russian and a Canadian on board the Soyuz rocket, currently the only way to get people to the ISS.