Trump, Erdogan, Bezos – Jackson Hole Rogues: Economy Week Ahead
(Bloomberg) -- Who are the biggest source of trouble for the Federal Reserve?
U.S. President Donald Trump for launching a trade war? Turkish President Recep Erdogan for roiling emerging markets? Or Amazon.com Inc. founder Jeff Bezos and other corporate titans for contributing to a decline in market competition?
The Jackson Hole symposium, the Kansas City Fed's annual retreat which starts Aug. 23, will provide an opportunity for policy makers and academics to consider those questions. Finding answers will be harder to achieve.
For investors, Trump's trade war is back on the agenda as China prepares to send Vice Commerce Minister Wang Shouwen to the U.S. later this month to resume talks. That in itself was enough to lower the temperature in China's markets, with the yuan halting its slide toward seven to the dollar. Still, another U.S. duties on $16 billion of Chinese products are set to take effect next week and lawmakers will hold hearings on another $200 billion.
For the Fed, there's a scenario where a combination of high tariffs and an economy operating at full capacity shifts inflation dynamics. The current tariffs on $50 billion in Chinese imports, though, are too small to move the dial. It would take a step change in protectionism to command serious attention from monetary policy makers.
In his own hole and still digging, Erdogan is also captivating the market. For the Fed, though, the inability of the emerging market tail to wag the advanced economy dog means the focus of attention will be elsewhere. Emerging markets as a share of global gross domestic product, imports, and equity market capitalization are on a falling trend.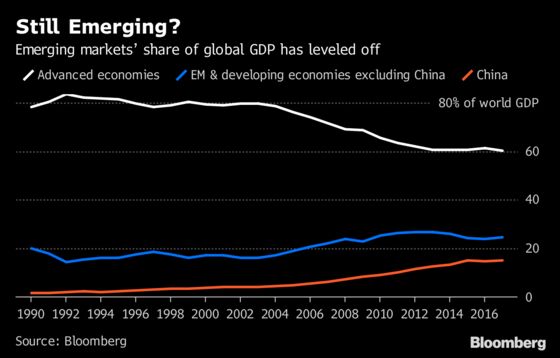 That leaves Bezos and other corporate titans as part of a larger discussion on reduced competition. The symposium is titled 'Changing Market Structure and Implications for Monetary Policy' – a hint at the way dominant firms like Amazon, Alphabet Inc.'s Google, and Apple Inc. are changing dynamics across the economy.

A 2017 paper authored by David Autor and others found that the rise of superstar firms with very high productivity resulted in a fall in the labor share of income. A 2018 paper by Jason Furman and Peter Orszag pointed in the same direction, and suggested that reduced competition is contributing to lower productivity growth and increased inequality.
For the Fed, those trends – pointing to structural drivers of low growth and muted inflation – are certainly alarming. At the same time, the forces driving reduced competition are largely outside of the control of monetary policy. If superstar firms are the new villains of the economy, the tools to catch them won't be crafted at a Fed symposium.
Here's a rundown of some of the key events in the world economy next week and Bloomberg Economics' take on them:
Fed Chairman Jerome Powell's Friday speech on 'monetary policy in a changing economy' will be the main attraction at the Jackson Hole summit. Powell could largely avoid commenting on near-term prospects for the economy or monetary policy, barring the mention of substantial progress made toward the central bank's dual objectives and the Fed closely watching recent global developments. Wednesday sees the release of minutes from the last time policy makers gathered. – Yelena Shulyatyeva
June retail sales, released on Wednesday, likely expanded at a faster pace than in May. Sales have been trending up after a weak first quarter, supported by rising wages and strong employment gains. While another strong reading is expected in June, rising rates and near record levels of household debt are expected to weigh on consumer spending in the second half – Tim Mahedy
In Mexico, revised real non-seasonally adjusted GDP data is likely to confirm preliminary growth figures of 2.7 percent year on year. Results point to positive but decelerating economic activity consistent with tight monetary conditions and lingering uncertainty about Nafta and economic policy. – Felipe Hernandez
Japan's inflation likely picked up in July, spurred by higher prices of fresh food and oil, and a rise in import costs reflecting a weaker yen. Even so, the central bank's 2 percent target remains far off. Bloomberg Economics estimates headline inflation accelerated to 0.9 percent year on year in July from 0.7 percent in June. – Yuki Masujima
The euro-area flash PMI survey on Thursday will provide clues on whether third-quarter growth momentum is picking up as expected. Minutes from the European Central Bank's most boring policy meeting of the year are likely to be similarly dull. – Jamie Murray 
Read Bloomberg Economics' comprehensive previews of the week ahead for the U.S., EMEA, Asia and Latin America.