Trudeau Says Canada to Unveil Stimulus, Coordinate With G-7
(Bloomberg) -- Prime Minister Justin Trudeau said Canada will introduce a "significant" fiscal stimulus package, as part of a coordinated effort with other Group of Seven countries to counter the virus-driven global economic slowdown and calm markets.
Finance Minister Bill Morneau and Bank of Canada Governor Stephen Poloz were due to hold a press conference in Ottawa on Friday, along with Jeremy Rudin, head of the Office of the Superintendent of Financial Institutions of Canada, the federal banking regulator.
At a press conference at his home in Ottawa, Trudeau said his country has the fiscal capacity to act, with details of his plan to be announced later Friday. The Canadian prime minister also said G-7 leaders have agreed to work together to respond to the crisis.
The "government of Canada will be introducing a significant fiscal stimulus package in the days ahead," Trudeau said. "In my conversations with my fellow G-7 leaders, we have agreed that it will be important for us to coordinate at a G-7 level to impact the global economy."
After days of incremental measures, global policy prescriptions were coming thick and fast on Friday. Congress was said to be near a deal on a relief bill in the U.S. The European Union prepared to suspend government spending rules, and regulators in Italy and Spain banned short-selling on some stocks. China's central bank said it would pump in $79 billion to bolster the economy.
French President Emmanuel Macron said in tweet on Friday he agreed with President Donald Trump to hold an "extraordinary" leaders' summit by video-conference on Monday.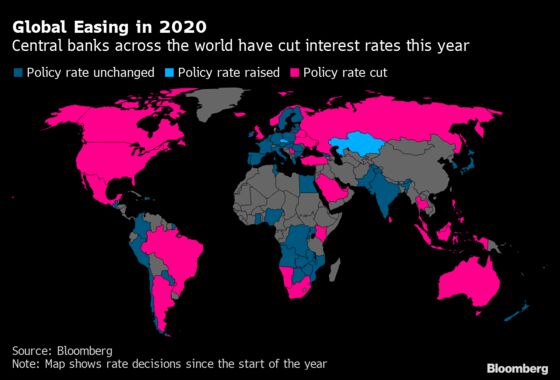 In Canada, officials from Morneau's office were busy calling bank economists to get advice on potential measures, seeking input on what specific policies should be taken and how large any stimulus package should be, according to three people familiar with the matter who spoke on condition they not be identified.
Canada's government is ramping up the response as the nation's economy reels from a double hit from the coronavirus and plunging oil prices, with many economists now predicting the country is on the brink of recession.
Morneau's measures would be the latest step from officials trying to get ahead of the coronavirus pandemic after the Bank of Canada cut rates last week and boosted liquidity measures on Thursday. Morneau scheduled his budget for March 30, but lawmakers said Friday that date could change.
Canada's lawmakers suspended parliament until April 20, though Trudeau said that won't impact the government's ability to respond.
Trudeau has refrained from announcing any robust fiscal stimulus package despite moves from other countries globally who have announced more aggressive plans. It has promised just C$1.1 billion ($790 million) in additional funding to respond to the virus.
But pressure for the federal government to act swiftly and with a targeted fiscal response to the deteriorating situation has escalated over the past week.
It's now likely that Canada's economy will fall into a recession this year. Several economists at Canada's largest banks are predicting a contraction in the second and third quarters of 2020 due to the economic fall out from the pandemic and tank in oil prices. While it's likely that other countries will enter into a recessionary period as well, Canada is particularly vulnerable due to it's reliance on the oil sector.
On Thursday, Morneau confirmed the government has been forced to redo its revenue forecasts for the 2020 budget he plans to release on March 20. He also said he's speaking with global counterparts, including Treasury Secretary Steven Mnuchin, and the government was busy all day discussing its response to the deteriorating conditions.