Trillion-Dollar Autumn Weeks Stare Down Powell Fed: Taking Stock
(Bloomberg) -- S&P futures are bouncing early after a week many bulls would like to forget. Coming off the third week since mid-October where nearly $1 trillion in market value was wiped out, risk assets appear to be back in favor, if developments in Europe are any guide. With the exception of February and March this year, you would need to return to the latter half of December 2015 and into January 2016 to find sell-offs of this magnitude.
Investors look to be shrugging off developments that Russia fired upon and seized Ukraine warships near the Crimea peninsula Sunday, just days ahead of the Group of 20 talks set to get underway in Argentina. An emergency UN Security Council meeting will take place around 11 a.m. in New York, where some resolution will likely be sought. Delegations for the G20 are slated to arrive today ahead of formal discussions Friday and Saturday.
Some are pointing to Italian willingness to negotiate with the EU over its budget and EU approval of the Brexit deal as easing tensions. There also appears to be a collective shrugging of new reports that Saudi oil production has risen further than what was reported last week -- itself a new record. Oil assets are rising despite reports of additional new supply, as oil, like some metals is now below cost support, according to Goldman Sachs's Jeffrey Currie in an earlier note. G20 talks are also being flagged as a potential opportunity for Saudi Arabia and Russia to come to a better agreement to balance oil supply. Currie also discussed the propensity for global growth in 2019 to reach 3.5% and a lack of any evidence for "recession-like" weakness in demand. It's "unprecedented" for all asset classes to be down in the absence of a recession, he wrote.
Go Backward Before You Can Go Forward
Given the dramatic reversal this morning, leaders Friday, which included defensive names, will be in focus. Airlines (AAL, JBLU, UAL) were clearly the beneficiaries of lower oil prices Friday (though WTI is up 1% and Brent up 1.8% early Monday), while many of the rate-sensitive sectors (utilities, real estate) have led the S&P for nearly three straight weeks. Figure it should come as no surprise as the 10-year yield has declined ever since the last FOMC decision early this month. And as the S&P has shed more than 4% since mid-October, many of the aforementioned sectors have risen.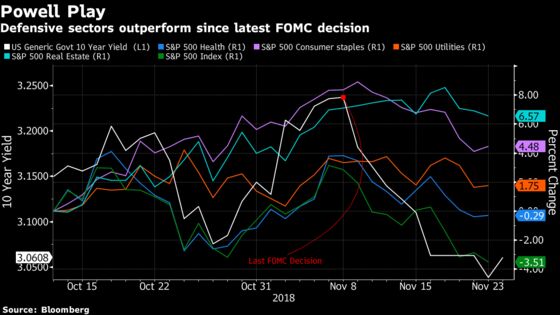 Federal Reserve Chairman Powell's speech Wednesday will likely have the market perched on pins and needles for his thoughts on inflation and the growth outlook, and perhaps any insight into whether the recent market struggles have raised the specter of FOMC action or inaction. FOMC minutes from the Nov. 8 meeting come on Thursday.
In other reversals, Logitech late Sunday confirmed the termination of talks to acquire Plantronics -- less than a month after initial reports indicated Plantronics was on the block. Will be watching shares of other communication and messaging services like j2 Global, and Turtle Beach Corp. (the fourth best performer in the Nasdaq this year), which competes with Logitech in the computer peripherals business. Activist Third Point and Campbell Soup Co. have also changed their tack, as the two are said to be nearing an agreement to end their proxy fight, according to the WSJ.
The Rockwell/UTX deal approval Friday too, is likely providing that much-needed optimism ahead of the U.S.-China talks this coming weekend. The surprise approval came after the Chinese declined to approve another high profile deal in Qualcomm/NXP Semi earlier this year that many saw as a proxy for deteriorating U.S.-China relations. Orbotech and Oclaro rose Friday as they are also in pending acquisitions that require the Chinese nod. Many of the tech giants (like INTC, MSFT, NXPI, AMD, MU) with China exposure are due to present at upcoming conferences, and so any bullish sentiment on relations should help remove any overhang before executives present.
Here's some stuff you might have missed since Friday's early close.
The two-week old "Camp Fire" blaze in California has been fully contained; border crossing between Mexico and the U.S. was closed as migrants approach and tear gas was fired; Barron's cover story looked at the collapse in values seen by the FAANG names in recent weeks, while also looking at the prospects for why the FOMC may pause on interest rate hikes -- an issue Bloomberg's Emily Barrett and John Authers also evaluated following the recent market concerns; China researchers said they contributed to the first gene-edited babies, according to the AP; EU approved the Brexit deal, putting the terms of the exit squarely in the hands of Theresa May and her party; Texas A&M upset LSU after a whopping seven overtimes, providing a windfall to those taking the over (146 combined points); the N.Y. Giants' postseason hopes were effectively quashed; Ohio State sent a message with its upset of #4 Michigan; President Trump presumably referred to himself as "President T" in thanking himself for lower oil prices; as far as coining fresh terms, golfer Phil Mickelson took home the $9 million prize for winning "The Match" in his duel with Tiger Woods in the fourth playoff hole and after multiple concessions by both parties, but also set the golfing Twitter universe aflame when describing a potential shot he was to attempt using #sidesauce, and the pay-per-view showing ended up being free for many after technical difficulties.
Cognizant is being pushed and pulled this morning with dueling analysts from Goldman Sachs and Cowen upgrading and downgrading, respectively. Goldman seems to be prevailing with shares up 1.7% early after the analyst expects sustained improvement in revenue growth in the next few quarters on improving trends in health care, Communication Media and Financial services.
Cowen also issued its best ideas list for 2019, highlighting DXC Technology as its top pick with a simultaneous upgrade. Shares are indicated up 3% in the pre-market after analyst Bryan Bergin sees more than 30% upside given its depressed valuation and risk/reward. Shares are now "de-risked" with a team of "proven" operators poised to stabilize revenue.
Tick-by-Tick Guide to Today's Actionable Events
8:30am -- Chicago Fed
10:30am -- Dallas Fed
After-market -- STNE earnings
4:01pm -- ENTA earnings
4:05pm -- MTSC earnings
5:00pm -- STNE earnings call
8:30pm -- China Industrial Profits