Italy Not Planning EU Deficit Breach, Finance Minister Says
(Bloomberg) -- Finance Minister Giovanni Tria said that Italy isn't planning to breach the European Union's budget deficit limit, in an apparent contrast with remarks made by Deputy Prime Minister Luigi Di Maio.
"The government's intentions throughout the summer -- also agreed upon by Di Maio -- suggest the opposite," Tria told reporters on Tuesday during an official visit to Beijing. He was asked whether the government's target could exceed the level of 3 percent of gross domestic product.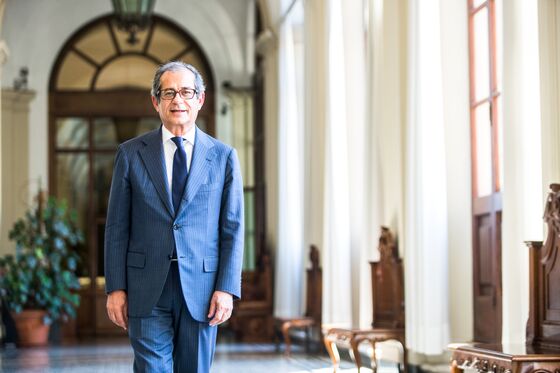 The comments mark yet another attempt by Tria to calm investors, who are nervous about Italy's commitment to lower the deficit and lessen its public debt burden. Italian bonds fell earlier on Tuesday after Di Maio's interview. That pushed the 10-year yield up to 3.21 percent, though it's since slipped back to 3.15 percent.
In the interview with Il Fatto Quotidiano newspaper, Di Maio appeared to indicate that to implement its sweeping program that includes tax cuts and a new income-support tool, the government would have to breach 3 percent in 2019.
"I can't rule that out, anything is possible, but we can't say that at this stage," Di Maio was reported as saying. He added that the government's commitment to protecting Italians' best interests did not amount to a challenge to the EU.
Di Maio stressed that the EU limit "has been criticized even by those who invented it, but this an old story," Tria said in Beijing, adding that he had only read excerpts of the deputy premier's interview. "And that is very different from saying that we will exceed the three percent."
The cap has also been questioned in recent years by its "inventor," Di Maio said in reference to a former French official who reportedly contributed to the design of the budget rule.
Italy's government, led by Prime Minister Giuseppe Conte, will next month approve its updated budget plan, including new goals for the public finances and economic growth. Tria said he expects yields to decline as the "uncertainty" over the government's program fades.
"We are finalizing our program based on the goal we already explained of maintaining the debt-to-GDP ratio on a downward path," Tria said, adding that Italy has posted a primary surplus, the difference between expenses and revenues before interests on debt are paid, almost every year for two decades.