Treasury Yields Find Floor in U.S. Hours, Still Tied to Stocks
(Bloomberg) -- The Treasury market's about-face on Tuesday suggests that if the benchmark yield is headed back down toward 3 percent this week, it may not be U.S. investors driving it.
The safe-haven trade that caused the sharpest intraday decline in the 10-year yield in months had faded by the end of the European session. The New York morning's low of 3.11 percent provided a jumping-off point for yields, along with a modest recovery in U.S. stocks. The reversal left the benchmark yield a few basis points lower on the day, at 3.17 percent. Given the lack of domestic momentum, the next step for Treasuries may again be determined by developments outside of the U.S.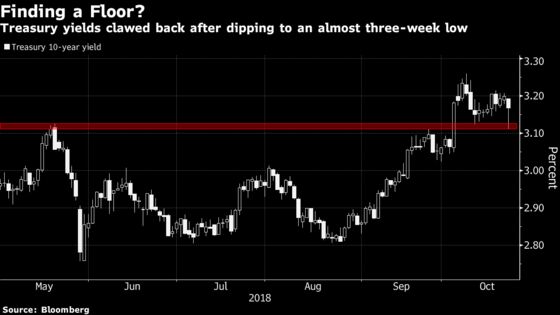 George Goncalves, head of Americas fixed-income strategy at Nomura Securities, expects bonds will continue to react to stock-market moves while this volatility plays out.
"Treasuries are operating as a hedge for now," he said. "When these storm clouds pass --- and they do -- people will look up and go back to realizing rates should still be on an upward trajectory."
The skies are far from clear yet -- the Italian budget impasse that contributed to this latest defensive trade isn't going away, as Prime Minister Giuseppe Conte said Tuesday his government has no "Plan B" to reconcile with the European Union's demands. And the geopolitical backdrop remains clouded by trade disputes and tensions between the U.S. and Saudi Arabia. What's more, the U.K. cabinet is now in open conflict over the Brexit plan.
For now, Goncalves says U.S. markets can weather these concerns.
"These wobbles in the market aren't big enough yet for me to think some sort of regime shift has happened" that would see stocks capitulate, he said. "How far it goes is going to be a function of, do people overreact?"