Treasuries Lead Global Bond Rally in Frenzied Hunt for Safety
(Bloomberg) -- Treasuries rallied, driving two- and five-year yields to the lowest levels since 2016, as investors increasingly bet the Federal Reserve will cut interest rates to cope with the economic impact of the coronavirus outbreak.
Rate futures now signal that the Fed will ease policy three times this year, with the first move coming as early as March, while benchmark U.S. yields stumbled to a new record low Friday amid a stock-market rout. In Europe, Germany's bonds rallied, driving 10-year yields to the lowest since September while riskier Italian debt slid.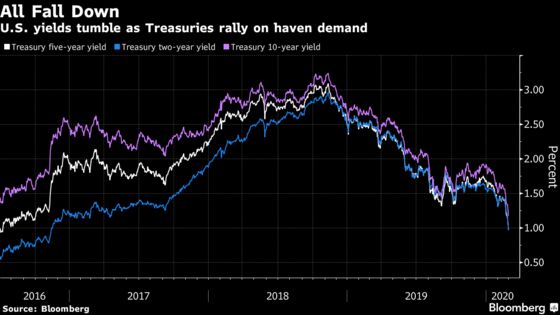 Treasuries have led a global debt rally as investors sought haven assets with a worsening virus outbreak. The five-year yields declined as much as 12 basis points to 0.95%, while the two-year also fell below 1%.
As benchmark Treasury yields smash through successive record lows, U.S. bond-market volatility is surging. The ICE BofA MOVE index, which tracks Treasury-market implied volatility, has jumped to the highest level since February 2016.
Alongside the Fed, bets for easing have increased globally. Markets are now pricing in a more than 60% chance of a quarter point cut in the U.K. in March while prospects of rates being lowered in the euro zone are also growing.
"Behind the drop in Treasury yields is investor expectations that the Fed will come to the rescue with a rate cut when in trouble," Kenta Inoue, a senior market economist at Mitsubishi UFJ Morgan Stanley Securities in Tokyo, wrote in a client note. "We do expect the Fed to move, but there's a risk that the Fed will wait to see economic data and be behind the curve."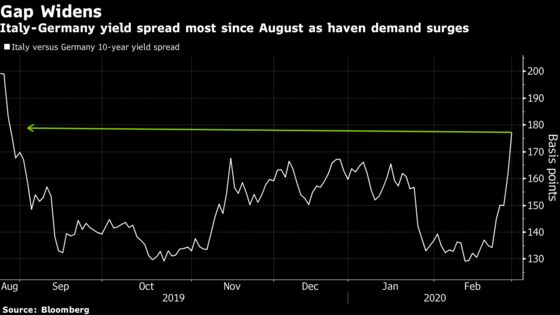 The contagion, with its epicenter in China, is disrupting the global supply chain and savaging consumer demand in some of the world's biggest economies. With the virus now spreading outside of China, fears of it denting a recovery in the global economy are intensifying.
That's pummeling riskier assets such as stocks and higher-yielding bonds such as those from Italy. The nation's debt tumbled, with the rate on the 10-year security climbing as much as 16 basis points to 1.24%.
"Given the global growth projections continue to slide and earnings growth is being slashed with no clear end in sight to the global spread, this correction in risk assets is certainly justified," said Derek Halpenny, head of global market research at MUFG.