Treasury Long Bond Reaches 2% Milestone as Global Yields Awaken
(Bloomberg) -- Bonds slid across the world to send yields to the highest in nearly a year, fueled by prospects for U.S. stimulus and expectations for quicker inflation.
The selloff pushed the yield on 30-year Treasuries up by as much as three basis points to 2%, the highest since February 2020. The milestone is psychologically important, in part because 2% is the Federal Reserve's goal for consumer prices. Yields from the U.K., Japan and Australia followed suit, hitting levels last seen during market turmoil in March.
The moves reflect bets on an economic recovery from the pandemic, with a rollout of coronavirus vaccinations and governments still ramping up spending. U.S. Treasury Secretary Janet Yellen pushed for rapid stimulus, saying the U.S. can return to full employment in 2022 if it enacts a robust enough coronavirus investment package.
"Comments from Yellen and Lagarde, along with the Senate adopting budget measures to fast-track the stimulus plan have set the tone for the market open, with risky assets and bond yields higher," said Mohit Kumar, managing director at Jefferies International, who targets the U.S. 10-year yield trading between 1.20% and 1.25%.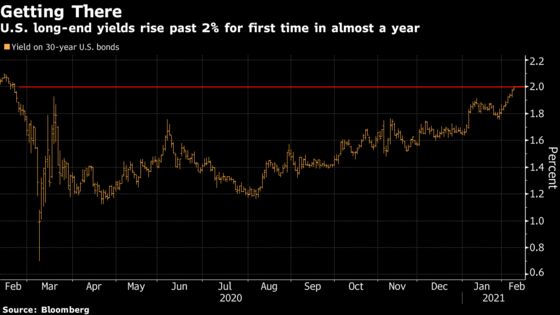 The milestone in Treasuries was the pick of a Monday session that saw government debt yields spike all over the world. U.K. bonds led European declines, with the yield on 10-year gilts rising five basis points to surpass that of similar Italian securities for the first time since 2016. Australian yields surged eight basis points to 1.27%.
That followed a series of comments from policy makers at the weekend. In addition to Yellen's remarks, European Central Bank President Christine Lagarde said policy makers must ensure monetary and fiscal support will be withdrawn gradually once the economy has recovered sufficiently from the virus.
The yield on 30-year Treasuries, which are more vulnerable to the eroding effects of accelerating inflation, has been in a rising trend since touching a low of around 1.16% in August.
Growing expectations for consumer-price gains are reflected in higher rates for inflation-linked debt. The 10-year breakeven rate -- the difference in yields between the 10-year Treasury note and its inflation-protected counterpart -- touched 2.21% Monday, according to data compiled by Bloomberg.
Yet economic data show consumer prices stood at 1.4% as of December, well below the Fed's goal. That's raising questions over whether the prospect of on-target inflation remains some ways off.
"It is more about market liquidity than any real risk of sizable inflation in the economy," said Richard Kelly, head of global strategy at Toronto-Dominion Bank, who is recommending investors short 10-year Treasuries and position for a steeper yield curve.
Oil's advance to a one-year high has also fed into inflation expectations and the underperformance of longer-maturity debt. Another catalyst is long-end Treasury supply, with auctions of 10-year and 30-year debt among the sales slated for the coming week.
The spike in yields is already drawing attention across asset classes, with the trajectory of real rates likely to help determine the path of riskier investments such as equities. Currency traders, too, are fixated on where U.S. rates will go next and what it means for the dollar.
"The focus is on the implications of U.S. bond supply for yields, on U.S. fiscal policy for growth and for Fed policy, and on the U.S. Treasury's plan to run down its cash balance," said Kit Juckes, chief currency strategist at Societe Generale SA. "Any impact on risk sentiment and the dollar is offset by rising longer-dated yields -- thanks to supply and inflation fears -- and positioning."