Treasury Yields Just Turned Negative For Europe, Japanese Buyers
(Bloomberg) -- Benchmark 10-year Treasuries have rarely yielded more than their German counterparts -- but if you're a euro-based investor, you'd be better off staying home.
As a result of a plunge in what's known as the cross-currency basis, U.S. 10-year yields fell Thursday to minus 0.14 percent for European purchasers protecting against currency swings through swaps. That compares to nearly 0.53 percent for similarly-dated German securities, and roughly 3.05 percent for those purchasing the U.S. notes unhedged.
Driving the hedged yield lower is the mounting costs to convert payments from euros into dollars. The three-month cross-currency basis dropped to minus 41 basis points Thursday, from about minus 16 points a day earlier, the biggest single-day decline since 2009. While pressures often build in funding markets around year-end, the fact that the three-month tenor now covers the remainder of 2018 may explain the sharp drop, according to Jefferies LLC.
"Last year's widening was pretty extreme as we approached year-end. It seems to be that we're setting up for a repeat of that," said Brad Bechtel, head of global foreign-exchange. "Those that are jumping on it now are getting an early start on locking in dollar-funding."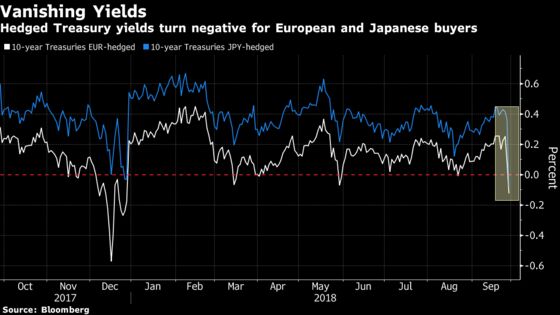 Japan-based investors face a similar plight. Three-month yen cross-currency basis swaps fell to minus 54 basis points on Thursday from roughly minus 24 points the prior day. As a result, 10-year Treasuries now yield minus 0.1 percent for hedged Japanese buyers.
Cross-currency basis swaps are often tapped by treasurers at multinational companies or long-term investors seeking to hedge away foreign-exchange risk, as well as central banks. For a European buyer of Treasuries, the cost to hedge would entail paying the three-month London interbank offered rate for dollars (currently 2.38 percent), receiving their local Libor (minus 0.35 percent) and paying the basis (0.41 percent).
Given that the demand for dollars will likely continue to build heading into year-end, that bid could provide a support for the greenback in the spot market, according to Bechtel.
"It changes the dynamic for hedgers," Bechtel said. "The general demand for dollars, even though it's in the funding markets, it helps keep the dollar firm."