Treasuries Breaching 1% on Democratic Win May Just Be the Start
(Bloomberg) -- U.S. Treasury yields broke above 1% for the first time since the pandemic-driven turmoil in March, and the selloff may only have just begun should the Democrats secure control of the U.S. Senate.
The 10-year yield, a key global benchmark interest rate, at one point surged close to 10 basis points to more than 1.05% as Democratic victories appeared likely in both Senate runoff elections in Georgia, paving the way for more spending to revive the U.S. economy. Long-bond rates, meanwhile, were on track for their biggest one-day jump since March's pandemic-related turmoil and investors have already started to dust off reflation trades in anticipation of a so-called Blue Sweep.
"The result will certainly be seen as a driver of higher Treasury yields," said James Athey, a money manager at Aberdeen Standard Investments. "The reflation trade has already been sparked. The question really is how much further the Senate result will push that."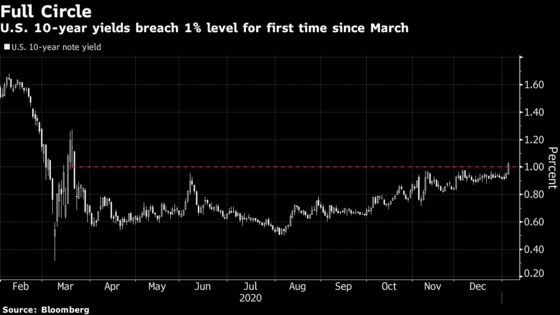 Should 10-year yields climb higher from 1%, investors said it could spark a domino effect across asset classes if the increase is accompanied by economic recovery and moderate levels of inflation. A gauge of the dollar approached the lowest level since 2018 and most commodity prices rose.
The spread between five- and 30-year bond yields hit its steepest level since November 2016, when Donald Trump's election sparked trades premised on stronger growth and higher inflation.
The 30-year yield at one point rose close to 13 basis points on the day and even after paring its move slightly remained on course for the biggest single-day advance since March. Back then, the turmoil surrounding the pandemic drove a number of daily moves both ways in excess of 20 basis points, including a 40 basis point shift on March 17.
While the pandemic is still raging with the rollout of vaccines in the early stages, the risk is that further signs of inflationary pressure will start to see bets on Federal Reserve rate hikes materialize.
U.S. 10-year breakevens, a market gauge of inflation expectations over the next decade, topped 2% this week for the first time since 2018, having gained in each of the last three months. At around 2.09%, the measure is within sight of 2018's high of 2.2078%, and a breach of that level would put it in territory unseen since 2014.
Where next:
What's Next for Markets After 10-Year Yields Climb Back to 1%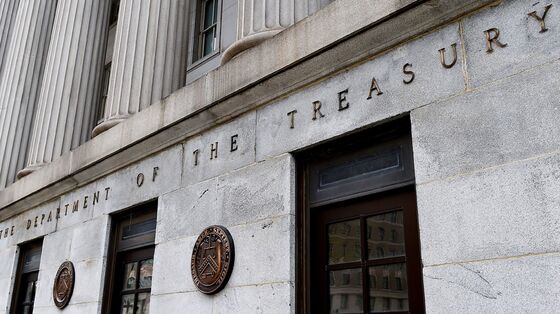 European longer-dated government bonds also fell, with the German 10-year yield rising more than five basis points.
"It's a clear steepener trade and fixed-income selloff," said Richard Kelly, head of global strategy at Toronto-Dominion Bank. "The initial reaction here should be 'fiscal on,' and that does support higher rates."
Treasury yields gained ahead of the U.S. elections in November, propelled in part by the expectation of more stimulus under a Democratic administration. The breach of 1% completes a journey that began on March 3, when early indications of what the pandemic might mean for the U.S. economy pushed the yield below that level for the first time. Over the following week, it fell to a record low 0.314%.
Higher yields will lead the Federal Reserve to intervene only if the move jeopardizes current easy financial conditions, according to Ed Al-Hussainy, a portfolio strategist at Columbia Threadneedle. He sees potential for the 30-year Treasury yield to climb to 2.25%-2.50%, from the current 1.78%.
"I can see 10-year Treasury yields rising to 1.5% to 2% in short order if more and more uncertainty gets behind us," said Vishnu Varathan, head of economics and strategy at Mizuho Bank Ltd in Singapore.