Pound, U.K. Yields Rise as Traders Lift Bets on BOE Rate Hike
(Bloomberg) -- The pound and U.K. bond yields rose in tandem as the Bank of England's comments on a stronger case for tightening prompted traders to bring forward their expectations for a rate hike.
Sterling rose as much as 0.7% to the day's high of $1.3714, while the 10-year yield climbed five basis points to 0.85%. Traders now see the BOE raising rates by 15 basis points to 0.25% in February 2022, having priced it for May before Thursday's meeting.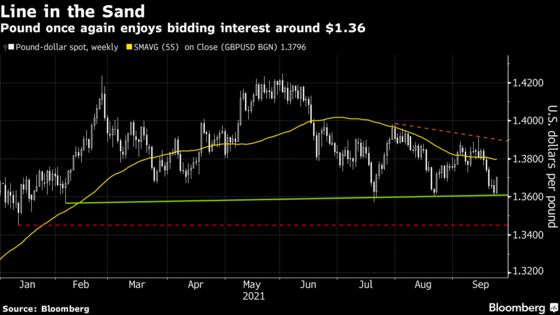 They now also expect a further quarter-of-a-percentage-point rise to 0.5% in August next year, compared with November previously. That came as two BOE officials dissented to vote for a reduction in bond purchases, showing a growing push to reduce pandemic-era stimulus.
"The 7-2 vote is the beginning of a shift toward higher rates and boosts the chances that QE ends earlier than expected," said Neil Jones, head of foreign-exchange sales to financial institutions at Mizuho Bank. "The text comments are looking more hawkish in my mind. We should continue to see further pound strength across the board and an increase in the chance of rate hikes."
While the central bank traditionally shifts its key interest rate by multiples of 25 basis points, it last cut rates by 15 basis points in March 2020, at the height of the coronavirus pandemic. If officials wanted to raise rates, a move back to 0.25% is seen by strategists as the likely first step.