Trade Woes Set Up Euro Economy for Disappointing Year-End
(Bloomberg) -- Euro-area growth slowed to the weakest in more than two years at the start of the fourth quarter as manufacturers suffered from mounting concerns over global trade.
The dismal reading for the Purchasing Managers' Index comes a day before European Central Bank policy makers meet to review the risks facing the economy and their pledge to cap bond buying in December. Ebbing confidence could damp their optimism about momentum in the region.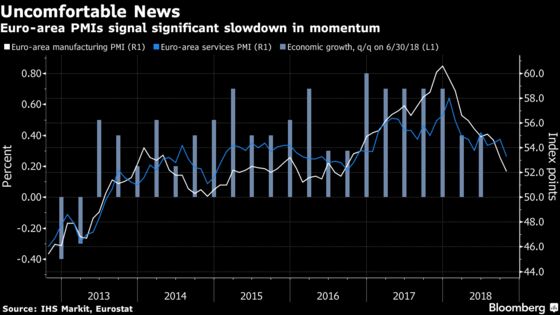 The composite PMI from IHS Markit dropped to 52.7 in October from 54.1 in September. The reading was below all estimates in a Bloomberg survey of economists, though it still indicates quarterly growth of 0.3 percent.
The decline was led by manufacturing, where output growth was the weakest since December 2014. In Germany, the euro zone's biggest economy, factory growth slowed sharply and the composite measure -- which includes services -- dropped to the lowest in more than three years. Phil Smith, an economist at IHS Markit, described the data as "unpleasant."
The market reaction was also clear, with the euro falling to the lowest in two months. It was down 0.5 percent to $1.1420 as of 10:32 a.m. Frankfurt time.
"The survey will make for uncomfortable reading at the ECB," said Chris Williamson, an economist at IHS Markit. "The headline PMI has fallen to a level which would historically be consistent with a bias toward loosening monetary policy."
Part of the manufacturing weakness may reflect issues in the car industry, where production has been held up by new emissions tests, though some companies are also feeling the impact of emerging-market turmoil. In France, Renault this week lowered its market outlook for China.
But Williamson said the slowdown is broadening and the threat of a trade war has "darkened the global economic environment and led to increased risk aversion."
Earlier this week, French IT firm Atos cuts its revenue guidance and said the global economic backdrop was becoming "more uncertain." German manufacturer Leoni AG lowered its sales and earnings forecasts citing weaker Chinese demand and international trade conflicts.
In the PMI, expectations of future growth slipped to the lowest level in almost four years and hit a near six-year low in manufacturing. As a result, companies slowed hiring.