Trump's Trade War Means Boom Time for Some
(Bloomberg) -- China's exporters are gathered in their thousands in Guangzhou for the latest edition of the Canton Fair. We're asking for their insights into how the escalating trade war with the U.S. is affecting their businesses and their outlook on the economy.
Check back here over the next couple of days for rolling updates.
U.S. Exporters Don't Love The Trade War Either (Tuesday)
Ohio-based Exotica Fresheners Co. doesn't sell much in China, but Danny Elassir, the company's export director, says the Canton Fair is still one of its most important opportunities for picking up new customers, since buyers attend from all over the world. He's set up in the show's international pavilion, where non-Chinese exporters including U.S. conglomerates Caterpillar Inc. and Honeywell International Inc. are also marketing their products.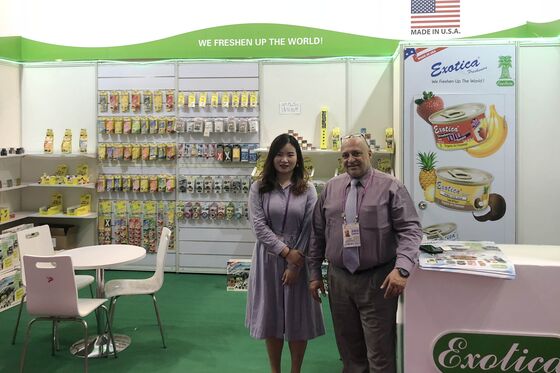 The main export markets for Exotica's automobile air fresheners are the Middle East and Latin America. From Elassir's perspective, the idea of importing such products doesn't really exist among the Chinese -- after all, they're also a competitor -- and the language barrier creates added difficulties at trade shows like this.
Even though China isn't a major market for Exotica, Elassir says Trump's policies have not been good for business.
"We were doing good, but we are starting to feel the pinch now," he says, citing tariffs on aluminum which raised the cost of packaging, as well as rising labor costs.
Trade War Means Better Sales...For Now (Tuesday)
Ningbo Staxx Material Handling Equipment Co., a manufacturer of pallet jacks, is experiencing a short-term boom as its customers try to get ahead of U.S. tariffs, says Jeremy Chow, a sales manager at the company. It's a good illustration of the front-loading of orders that analysts said explained the surprise acceleration in export growth in China's September trade data.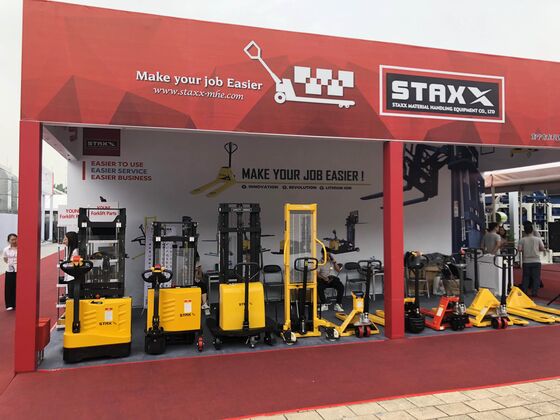 The company exports manual, semi-electric, and fully-electric pallet jacks to U.S. customers. The fully-electric models have been subject to a 25 percent tariff since earlier this year as part of one of the initial rounds of duties the U.S. imposed on imports from China.
So they've found a workaround: instead of shipping the fully-electric models, they're converting them to semi-electric ones by removing the motor. Then, when the U.S. customer receives the product, it's converted back. This adds about 10 percent to the cost, and the semi-electric models are still subject to a 10 percent tariff, but it's still a bit cheaper to do it this way.
The opportunity for such arbitrage will go away next year when the 10 percent tariff rises to 25 percent. But Thomas Wang, the company's exports director, isn't too worried about a slowdown in sales, given how cost-competitive he thinks the company's products are, even taking the tariffs into account.
Will Trump's Tariffs Make Next Christmas Pricier? (Monday)
Christmas 2019 could be tricky.
Holiday decorations are the type of low-margin, labor-intensive consumer goods for which the companies that manufacture them would suffer if the U.S. subjected them all to tariffs. So far, Zhuguang Group Sanmen Christmas Arts & Crafts Co. has avoided getting dragged into the trade war, but Haze Jiang is concerned Trump will eventually follow through on his threat to impose tariffs on all 100 percent of U.S. imports from China.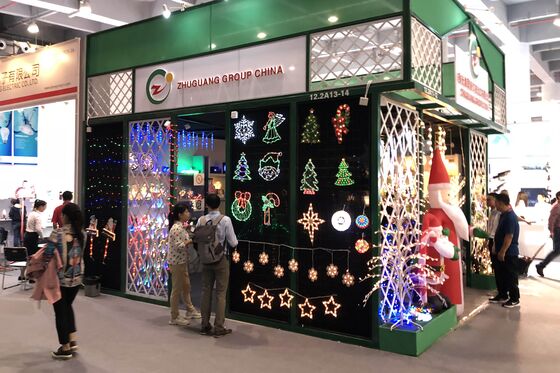 Jiang, who is handling North American sales for the company's booth at the Canton Fair, said the industry is already struggling amid rising labor costs, which in recent years have spurred a relocation of production to southeast Asian countries where it's less expensive, like Vietnam.
But companies are having trouble building out capacity quickly enough to meet demand, and margins, at just 5 percent to 10 percent, are already too thin for producers to make concessions on price, Jiang says. The bottom line: if tariffs end up covering their products, U.S. consumers will just have to pay more.
Hot Tub Maker Sees Next Few Months as Pivotal (Monday)
Exports make up 95 percent of the company's sales. About 80 percent of those hot tubs go to Europe, while 20 percent are sold in the Australian market.
SKSWC doesn't sell in the U.S., so American tariffs don't apply to its products. What's hurting them are the retaliatory tariffs imposed by China on U.S. imports. American-sourced acrylic and control systems comprise 65 percent of SKSWC's costs, Liu says.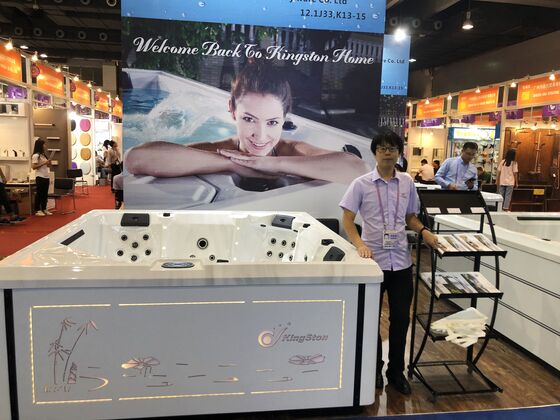 Liu says the company has already paid the 10 percent tariff which was implemented on Sept. 24 on its latest purchases of acrylic and control systems. Right now they're content with absorbing the higher costs, but Trump has said the 10 percent tariff on Chinese exports to the U.S. will become 25 percent on January 1. And if the Chinese government responds in kind, SKSWC will have to pass on some of that extra cost, which Liu fears may drive away customers.
In the meantime, they're starting to switch away from U.S. inputs -- they're buying more control systems from Canada and using Chinese-sourced acrylic, but 40 percent of their existing customer base still prefer the U.S.-sourced product, he says.
The company had a great kickoff to the year in the first three quarters of 2018 but the fourth quarter is off to a slow start, and the IMF's downgrade of global growth forecasts has Liu a little worried. The first three months of 2019 will be pivotal for determining the effects of the trade war on demand, he says.
Agriculture Machinery Set for a Slowdown Next Year (Monday)
Big farm tractors line the entrance to the agriculture and construction machinery section at the fair. For Shandong Yuntai Machinery Co., one of the exhibitors, the deepening trade war with the U.S. is making business prospects for the coming year uncertain following two years of solid growth in the American market.
The company's products, which are sold in more than 60 countries, range in size from heavy-duty disc harrows used for tilling soil to a variety of disc blades as small as 300 millimeters in diameter -- the latter comprising their main export to the U.S. market.
Amy Mao, a sales manager staffing Yuntai's Canton Fair booth, says the U.S. market, which the company entered two or three years ago, still makes up a relatively small share of their business. But the annual growth rate of around 10 percent that they've achieved since they started selling there probably represents an upper bound on what the company can hope to achieve in the coming year, given the tariffs U.S. President Donald Trump has put in place, which cover Yuntai's products.
That also makes it harder to judge which markets will be the biggest drivers of growth going forward, Mao says. After all, no one predicted the trade war before it broke out earlier this year, and it's not clear what the overall impact will be on a complex, global economy.