Trump Is Still Studying Ways to Crack Down on Chinese Stocks
Last fall, the trade war between the world's two largest economies finally reached a point that sent senior U.S. bank executives into a lobbying frenzy. When Bloomberg first reported in September that the White House was weighing limits on U.S. portfolio flows into China, banks gamed out worst-case scenarios and executives made their displeasure known to senior Trump administration officials.
Four months and a phase one China deal later, Wall Street is confident that chapter is closed and President Donald Trump's administration has shifted its focus away from capital markets and toward a more positive agenda with Beijing.
But potential action on curbing investment flows into Chinese companies has not yet been ruled out. Interagency discussions on the matter are ongoing, Larry Kudlow, the White House economic adviser, said in a recent interview.
"We haven't concluded anything. We looked at a lot of things. We just haven't come up with concrete policies," he said.
According to Kudlow, though, what has been ruled out — or was never even considered by the White House — is an extreme option that Wall Street feared the most: delisting Chinese firms from U.S. exchanges.
A group of lawmakers, led by Florida Senator Marco Rubio, are continuing to push for legislation that could ban a government retirement fund from investing in some Chinese companies and another to block some Chinese stocks from trading on U.S. exchanges if they don't comply with U.S. auditing rules. To date, there's no indication that those bills could become law anytime soon. But that might change quickly.
The issue could become a rallying cry for Trump on the campaign trail this year, says Leland Miller, CEO of China Beige Book. "If the White House starts feeling heat on China in the run-up to the election, we could see this idea suddenly resurface."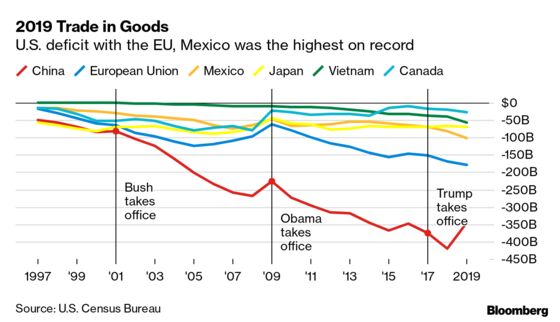 The European Union's trade surplus with the U.S. hit a record high in 2019, a milestone the bloc probably doesn't want noticed too widely in Washington given upcoming talks with an American president who's intent on fixing economic imbalances. The EU's trade chief will be in the U.S. capital for talks with his counterparts on Thursday as the two sides seek to revive a commercial truce. 
Widening gap | Why narrowing the U.S. trade deficit won't last in 2020.
Losing energy | Coronavirus may hamper China's $52 billion energy trade pledge.
Feb. 7: German, French, Chinese trade balances
Feb. 11: U.K. trade balance
Feb. 14: EU trade balance